CiiRUS Windows Download
Welcome to Better Vacation Rental Software
Download CiiRUS Windows to your computer
Simple, secure, and faster than ever!
Download CiiRUS Windows
Version: 2020 (2020.010.2)
Updated: Oct 2020
Download CiiRUS Windows to your computer (free download)
Click on the download file to proceed with the install
Once it has downloaded, click on the CiiRUS Icon from your desktop
Login with your username and password or select the demo account option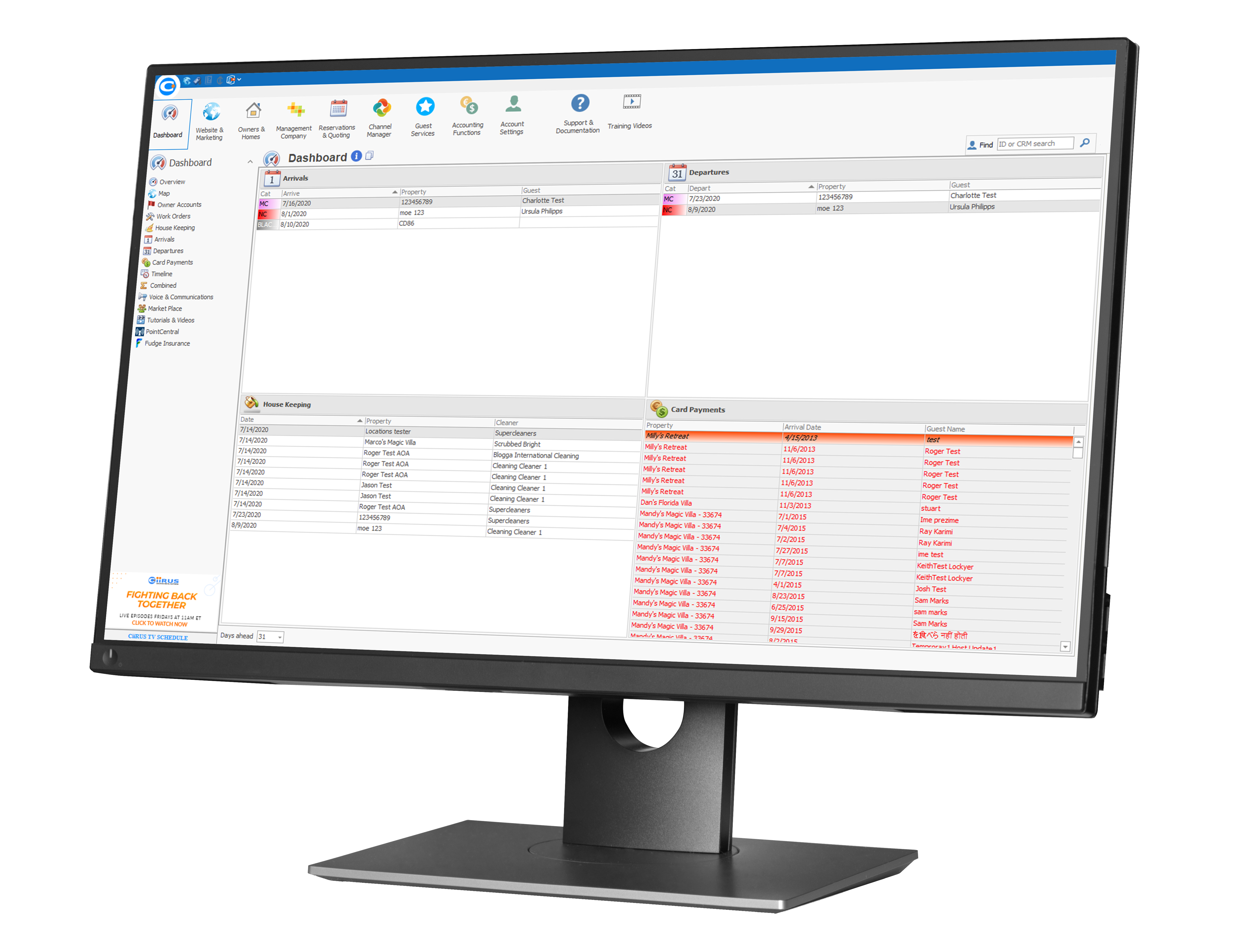 Why CiiRUS?
Complete Reservation and Management System for Vacation Rentals
Manage
Get ahead of the curve with advanced property management tools, including deeply integrated central calendars, custom reporting, advanced housekeeping & maintenance, trust accounting, and hundreds more features.
Market
Your own modern, responsive websites accompanied by a progressive marketing engine to drive reservations. CiiRUS streamlines communication throughout the guest lifecycle, and makes upselling to past and future guests simple.
Connect
Connect live data to all the major OTA channels, including Vrbo, Airbnb, Booking.com, and other global partners. We focus on key transactive partnerships that score profitable bookings for your business.
Get in Touch With Us !
Contact our Service & Support Team. We are always happy to help!
CiiRUS has a full service & support team to answer your every need. Our team is well versed in all aspects of the system, from initial setup to owner accounting. If you have a quick question, or have encountered a technical error, please don't hesitate to reach out to our team.
Submit a Ticket
Help Center
Version History
Update version: 2020.010.2 (Oct 1st, 2020)

- Manage Owners: Moved the data fields in to a tabbed container for easier navigation.

- Channels: Added HomeBeds

- Channels: Removed some discontinued channels from the list

-Add Reservation: Now has check box for 'Length of Stay?' based on current user or selected agent

- Disburse Bookings: Updated rental payment description to include departure date

Update version: 2020.009.1 (Sep 1st, 2020)

- Property Assistant: When clicking 'Edit' next to the selected Terms and Conditions, the editor now shows the selected terms.

- When converting a quote to a booking, the TBS now opens for the booking.

- Cart Extras: The property lists (for select and selected) are now in sizable columns.

- Manage Owners -> Other Settings: Can now upload and view a PDF owner contract. This is for users that are not using the eCiign option, to upload a scanned contract in PDF format

- Manage Owners: Can now store an alternate email address. This is not used in the system for automated emails, but available for reference.

- Updated the Owner / Property Overview screen (F7) to now show up to 4 telephone numbers, alternate email address and contract (if uploaded from the Manage Owners screen)

- Owner Accounts: Moved the Print / Email / View Changes options in to a single Hamburger Menu at the top-right of the window, to reduce the space taken by the options.

- Manage Owners: Can now store Company name within the Contact Details

Update version: 2020.008.1 (Aug 1st, 2020)

- Updated user log so MC see date/time stamp in local time zone.

- When adding a new card payment method, if Australia is selected as country then can now select the Territory.

- When adding a new card payment method, if Mexico is selected as country then can now select the State.

- Booking Scheduler: Added 'Resort' which represents the 'Community / Resort' free text field for the property.

- Property Audit Report now includes property country, which is shown in red if not 2 characters in length.

Update version: 20.007.1 (July 1st, 2020)

- Free Properties Report: Now includes Calendar Sync Properties.

- HomeAway / Vrbo Property Features: Can now select whether to 'Show exact location'.

- MC Specific Property Details Report: Removed the Ciirus logo from the report and improved layout of header section.

- Property Assistant: Property Address: Country now only allows 2 upper case characters.

- Property Audit Report now includes property country, which is shown in red if not 2 characters in length.

- Property Audit: Headline now flagged red if < 20 or > 100 characters.

- Quick Property Setup: Community is now only visible if the user is configured for Rental Exchange.

Update version: 20.006.1 (June 12th, 2020)

- Bookings List: 'Includes' list now has option to show guest contact details. This shows guest email, telephone, cell and address. Guest name is displayed regardless of this setting.

- Bookings List: When you specify to filter by date type, if you select 'Rental Dates' you can now choose how the filter logic works. This can be set to 'within range' which is the existing default logic (shows reservations where any part of the booking falls within the selected date range), Arrival Date or Departure Date (the latter 2, the arrival date / departure date must fall within the specified range).

- In the Property Assistant, various fields are now color coded if they are required for successful channel integration.

- New 'Property Audit' module (under Owners and Homes).

- Property Audit: Now includes a flag to show whether the default rate set includes nightly and floor rates.

Update version: 20.005.1 (May 1st, 2020)

- Owner Accounts: Fixed bug where entering a new transaction date for a transaction in an open month would sometimes cause an error.

- Owner Accounts: Fixed sort order when viewing owner accounts.

- Trust Accounting: For Aus. users, when splitting out cleaning fee when disbursing owner payments, the commission and tax on commission is now itemized.

- When viewing a bill, the 'Today's Balance' field in the property list now ignores possible time zone differences that may be cause 'Today's Date' to be off by 1 day.

- Trust Accounting: Fixed bug when clicking various menu options within the Trust Account section, the screen titles were not always updating at the top of the screen.

- Trust Accounting: New Trust Receipt template.

- Trust Accounting: When viewing the House Keeping Schedule, the 'Pay Cleaner' button is now hidden. To pay cleaners, click the 'Process Cleans to Vendors' option within the Accounting Functions Menu.

Update version: 20.004.2 (April 7th, 2020)

- Fixed bug where an error would pop-up if you go to the Access Control screen followed by the Software Settings Assistant, then click 'Finish'.

- Owner Accounts: For Australian users, the YTD summary that is optionally enabled when printing now uses 1st July to 30th June as the financial year.

- Quick Property Setup: Can now clear the 'Date off Management' field.

- Trust Accounting: 3 Way Rec -> Extras Margin Report: Fixed bug where any extras assigned to a calendar sync booking by the agent, where an amount was payable to the supplier, was not being reported.

- Trust Accounting: Fixed bug when clicking various menu options within the Trust Account section, the screen titles were not always updating at the top of the screen.

- Trust Accounting: New Trust Receipt template.

- Trust Accounting: When viewing the House Keeping Schedule, the 'Pay Cleaner' button is now hidden. To pay cleaners, click the 'Process Cleans to Vendors' option within the Accounting Functions Menu.

Update version: 20.004.1 (April 1st, 2020)

- Fixed bug in Global Owner Account Balance (Detail Report) where the User ID for the report was always set to Demo Account ID.

- In the Software Settings Assistant Navigator, moved the 'Trust Account Settings' link to be above the 'Disbursement Rules' link since new date mode setting affects the items available in the Disbursement Rules.

- Owner Accounts: When entering a blank amount for debit or credit (rather than 0) an error would occur, and a red X display over the grid. This has now been fixed.

- Owner Statements: Transactions occurring on the same dates are now sorted in a more logical order.

- Pay Owners screen would sometimes 'Timeout' for users with a large number of properties. This has been fixed. Applied to version 2020.002.2 and later.

- Total Booking Summary: When clicking 'Show Calcs..' corrected the report sub-title that was showing a date range.

- Trust Accounting: Can now specify in Settings Assistant whether to base financials off Arrival or Departure date.

Update version: 20.002.3 (January 24th, 2020)

- Trust Accounting: Fixed bug where entering filter text in the auto-filter row for the description column would cause the cursor to go to the beginning of the string while typing.

- Updated 2019 1042-S forms for box 7c.

- Updated drivers to fix problem connecting to QuickBooks desktop.

- URL for forced release installed is now obtained from the server to allow for specific versions to be downloaded.

Update version: 20.002.1 (January 16th, 2020)

- Secure Track: Access Control: Property Access: Property list now shows the community for each property.

- Total Booking Summary: In Guest Payments Tab, now has 'Amount due now'.

- Bookings List: Added new column 'Time Added' (available from the Column Chooser).

- CC Processing Screen: Now shows payment gateway, auto-process and auto-process date.

- Rental Analysis by Property Report: Prevented the ability for a Franchisee to clear the 'Select Franchisee' drop-down box.

- Trust Accounting: Cashbook Detail and Summary: Fixed error that would occur if there was no existing booking related to a guest or owner payment.

- Trust Accounting: When clicking Basic Work Orders from the Accounting menu, selecting owner to pay would result in an error that none were selected.

- Trust Accounting: When clicking Basic Work Orders from the Accounting menu, selecting vendors to pay would not include the selected values in the pop-up window.

- Update Rental Amount Analysis Report to avoid time-out error on large accounts.

- Rebranded Nomad to Rental Exchange.

- Fixed bug in Owner Account Month End Balances report.

- Fixed bug preventing deletion of a guest payment for certain calendar sync scenarios.

Update version: 20.001.0 (January 10th, 2020)

- Accounting Functions: When finalizing month end, improved further improved speed performance of the process.

- Booking Scheduler: You can now select an AOA booking and click a new Filter button to only show properties that are permitted to take the AOA category of the selected booking. This makes it easier to quickly see which properties can take the booking.

- Can now specify multiple AOA categories against an AOA property, if the property is permitted to take >1 category. This is set in the Property Assistant -> Basic Property Details.

- Cleaning Schedule: When creating a custom report, the previous and next guest name would not always show if the booking was not added by the owner.

- Copy Property function now includes some additional Airbnb features.

- Property Assistant: The progress through the assistant is now visually represented in the task bar icon.

- Quick Property Setup: When selecting a tax location, now displays Tax 1, 2 and 3 (previously didn't show Tax 3).

- Tax Reports: Updated 1042 form date to 2019.

- The 'Find' panel at the top of the main window can now be used to search for a CS Booking ID.

- Trust Accounting: 3-way reconciliation: Can now select any past period or current period. Selecting the current period will change the end date to today's date.

- Trust Accounting: Daily Reconciliation: Export to Trust Account: You are no longer able to inadvertently select a deposit to export, that has already been exported. A warning is now displayed.

- Trust Accounting: When disbursing, previously shows bookings that depart prior to end of current month, but now follows standard logic where bookings must have departed before 'Today'.

Update version: 19.022.4 (December 12, 2019)

- Accounting Functions: Process Cleans to Vendors: When Trust Accounting is enabled, shows a subset of the regular housekeeping schedule grid columns.

- Accounting Functions: Process Work Orders to Vendors (Basic): When Trust Accounting is enabled, shows a subset of the regular work order grid columns.

- Australia ABA Pending and Processed Screens: Now has row count and Sum Total of the Amounts (which can be switched to Min / Max / Average).

- Australia ABA Processed Screen: Now has an option to export the list.

- Bills (Advanced): Add Quick Print option to print the grid as it appears on-screen.

- Bills: Fixed error that occurred when voiding an owner bill.

- Trust Accounting: Can now choose 'Quick Print' as an option, as well as the default Formatted Print. This prints based on the currently selected columns in the grid.

- Trust Accounting: Daily Reconciliation: The default date range is now 1st to last day of current month.

- Trust Accounting: New menu item in the left-hand End-Of-Month menu 'Pending Transactions' with associated check box. This opens the same screen that is accessed from the Owner Accounts screen.

- Trust Accounting: Pending Owner Account Transactions: Removed code that calls AccountingFunctions.RecalculateOwnerAccountRunningBalance as this is no longer required, and affects performance.

- Trust Accounting: Pending Owner Account Transactions: The After clicking 'Process..', the user now gets a dialog box to confirm if the would like to proceed.

- Trust Accounting: Reorganized the left-hand navigation menu in to more logical groups.

- Trust Accounting: When processing a management payout, fixed bug where it would sometimes show a message saying the amount entered is more than the allowed amount.

- Trust Accounting: You can now batch guest / owner payments and export to the Trust Account without having to go in to the Quick Books / Export screen. The QuickBooks menu has now been hidden for Australian users.

- Work Orders (Basic): It is now possible to select multiple work orders to charge to the owner account as a single batch. Use the left-hand row indicator to select one or more work orders to process.

Update version: 19.022 (December 1, 2019)

- Trust Accounting: TBS: Guest Payments: Administrators can now delete a guest payment provided no other guest payments have since been added

- Trust Accounting: Bill Payments -> Remittance now includes the invoice number

- Bill Payments: When you open a bill to view, the Vendor name is now displayed in the window title

- Trust Accounting: When marking a bill as paid, you can now opt to email the remittance (and choose whether to preview the email) at the same time

- Trust Account: When clicking to 'Unreconcile' a transaction, a dialog box now pops up to ask for confirmation. This helps to avoid accidentally unchecking the box which can prevent the account from balancing

- Daily Reconciliation: Deposits and Payments: When unchecking the reconcile box, a dialog box now pops up to ask for confirmation

- Added selection of new standard email / CRM templates including multi-quote

- Specific Cart Items Report: Now has a Calendar Sync enabled mode

- Specific Cart Items Report: Can now click on a Booking ID to open the TBS

- Disburse Owner Amounts: Corrected the tool tip text for splitting out tax and cleaning fee on owner statement

- Owner Accounts: When switching to annual view then back to monthly view, the transaction grid would not redraw

- Updated T&Cs when installing the app to current latest version

- Trust Account: Renamed '3 Way Rec Date' to 'Payment Issue Report Date' for the button label and the subsequent dialog box to edit the date

- Disburse Owner Amounts: You can now double-click an item to open the TBS for that booking. If changes are made in the TBS, the grid will update

- Booking Scheduler: It was possible for a CS Property Supplier to move a CS agent booking out of a master property in to another property. This is now restricted

- Owner Accounts: Improved the loading speed when loading a specific month / year, especially for those on slower internet connections

- Software Settings Assistant: Fixed bug where changing a disbursement rule and clicking off the page without first changing to a different row, would lose the updated setting

- Upgraded to DevExpress 19.1.6

- Fixed bug where maximizing the app window, when using certain themes, would hide the window title bar

- Trust Accounting: Updated Commissions on Payment Issue Report to be based off the owner account statement date (also applied this to 19.019.1)

- Owner Accounts: Running total is now calculated client-side so changing 1 transaction amount will not cause all the data to upload to server on save. This reduces the time it takes to save

- Reporting: Monthly Reconciliation Report: Updated to hide properties not configured for owner accounting, and improved performance of query

- Owner Accounts: Finalize Month (inc Trust Account): Improved performance of finalizing when there are many properties

- Trust Accounting: Supplemental Deposit Worksheet: Added 'Print' option

- Trust Accounting: When printing the trust account, the wrong company name was displayed at the top of the page

- Disburse Bookings: You can now choose to split out the tax on rental paid by the guest. The tax amount will be deducted from the owner amount and credited to the owner statement (1 line per tax type)

- Owner Account Balance Report: Removed the date picker since this was ignored. The report always shows date for last finalized month and current balance

- Quick Property Setup: Added new field 'Live Date' to store the date the property was made live (for example, when content and photos have been entered)

- Inspections Module is now enabled for all users by default, unless prevented from Access Control

- Channels / HomeAway: Can now set the inquiry templates to 'Blank' by selecting field and pressing ctrl-del

- TBS: New 'Supplier Payout' tab to record payments to property supplier

- Lock-offs: Fixed bug that prevented TBS from opening for a black-out date that is a parent

- Work Order Item Usage Report: The company name title was showing as Floriwood regardless of which user is logged in

- Manage Owners: Send Welcome Email: Updated link to documentation in email

- Trust Accounting: 3 Way Reconciliation: Can now save / load reports to/from the database

- Trust Accounting: Trust Account: For Management Payouts, can now set the date on which the transaction should appear in the 3-way rec / Payment Issue Report, if it differs from the statement date

- Love Brands: Bookings List now shows the LR_ columns for all the Love Brands users

- Tax Reports: If three types of taxes are configured, when running the tax report on the 3rd tax type, the date range used was from the setting under the 2nd tax type

- Trust Accounting: Disburse Owner Amount screen: When clicking 'Process' you can now override the disbursement date (defaults to 'Today')

- Trust Accounting: 3 Way Reconciliation: Rather than selecting a specific date (or today's date), you now select a period by Month / Year

- Bills (in Bill payments / Assets): Can now choose custom check type and edit / select check format to use

- Pay Owners: Can now choose between the Default check format, or Custom format, allowing you to edit the check layout

- When adding properties, the fields "Private Pool' and 'Private Pool Heatable' are no longer checked by default

- Quotes: When quoting within the app, the following fields are now included in the grid: Country, State, City and Community

- Bill Payments: In the Bills list, the Category now pulls from either the bill or the assigned vendor (contact) record, depending on which has been set

Update version: 19.019

- Fixed the download location for when a new forced update is made (cdn location)

- When adding a new reservation, if the 'Override rate-set' drop-down was set to another rate-set, then the 'Over-ride rate-set' check box unchecked, the reservation was still being added using the overridden rate-set

- Owner Accounts Screen: Updated to remove the risk of 'Red X' being displayed on occasion when refreshing the grid

- When editing plain text descriptions / locations, the 'NewLine' character would sometimes be removed

- Fixed bug when assigning rate set to a property, and clicking to a different tab without first saving, would not save the most recent change

- Channels: Airbnb: Fixed bug where an error would occur when opening the 'Fees' drop-down

- Cart Extras: You can now specify a default vendor against each extra

- TBS: Extras: Edit Extra: You can now edit the vendor against an extra. This is initially inherited from the 'Cart Extras' vendor setting above

- Trust Accounting: When disbursing bookings, a new vendor bill is automatically created for the vendor / creditor charges on extras

- Channel Manager: Added GuestSmiles as a new partner

- Cart Extras Margin Report: Fixed bug where vendor cost price could be incorrect when >1 of an extra is added to a booking. This was also applied retrospectively to 19.018

- Cart Extras Margin Report: Now includes vendor / creditor against each item

- Commitment Home Report: Fixed bug when running the report as a franchisee (also applied to 19.018)

- Trust Accounting: When processing a recurring charge, if there is a cost price set, then a bill be be created for the total vendor amount

- Property Assistant -> Owner Account -> ACH Settings: Now, if an Australian user, this will show as 'ABA Settings' and allow configuration of the selected owner's bank account details

- Basic Work Orders: If a bill has been created for a vendor, the check box 'Created Bill' was not showing as checked

- Trust Accounting: When in the accounting menu, after updating the stats check-boxes against the trust accounting check list, the status would not always save if moving between screens

- Basic Work Orders: If a Work Order already has a vendor bill created, then you will now be prevented from selecting a work order to add to another vendor bill

- Bill Payment Remittance: Now shows property comments against each listed property

- ABA Pending Payments (Australia): You can now select which pending payments to save to ABA file. Select payments with the check box, or use the new 'Select all' / 'Deselect All' buttons

- ABA Files (Australia): Fixed bug where entering a bank account name >16 characters would prevent the ABA file from uploading successfully

- Fixed bug where Owner Account Balance Report would include properties for all franchisees even when only 1 franchisee has been selected

- Trust Accounting: Payment Issue Report: Can now enter custom dates for the report (previously was end of last finalized month to current date)

- Bookings List: Added new field 'Date Disbursed' that is available from the column chooser

- Money Held in Trust Report: The amount received from guest may display incorrectly if the guest payment had been imported from a previous system

- Trust Accounting: When Voiding a paid bill, the bill amount is now credited to the Trust Account

- Reports: Added new report 'Vendor Statement Report' that shows paid bills between specified dates for selected vendor / creditor

- Fixed problem where a CS agent could not change the balance due date on one of their bookings in the TBS

- Updated to latest version of DevExpress (2019.1.5)

- Updated the User ID of channel partner 'Go Global' to 41196

Update version: 19.018 (August 22, 2019)

- Bookings Manager: When cancelling a booking, fixed bug where if "Show Cancelled" is checked, the cancelled booking would be hidden until clicking 'Refresh'

- If a 404 error is received when downloading a property or web image from the image gallery, an attempt will be made to re-sync the image to the CDN

- Dashboard: Combined View: Departures grid was showing reservations that departed after the 'Days Ahead' date, if any part of the reservation fell within the 'Days ahead' date range

- Property Assistant: When deselecting the 'Franchised Property' check-box, the 'Franchisee' field was not being cleared

- Reporting: All reports (Standard, Additional, Occupancy, Custom) now share the new, new format report screen. All reports show in a searchable list, then you double-click a report to open it from the list

- Secure Track Permissions: Admins can now set set permissions on every report in the new reports screen

- Airbnb: Can now set the Airbnb Fees (Management Fee, Resort Fee, Linen Fee, Community Fee)

- Channels: Top Villas channel was not saving changes to the 'enabled' and rate set fields

- Channels: Added 'GoGlobal' as new channel partner

- Trust Accounting: Fixed bug where finalizing the month would close the trust account, but only close the currently selected owner statement rather than all owner statements

- Recurring Charges: When "All Properties" is not selected, and a new property is added to the property list, the property amount to charge owner and cost to MC is now auto-populated based on the default amount set in the recurring charge grid

- Trust Accounting / QuickBooks Exports: The 'Batch Deposits' screen now hides any deposits that have already been processed / exported

- Bill Payments: When viewing a paid bill, there is a new option to email a remittance notice to the vendor / creditor

- Website & Marketing: Property Sort Order: Improved the load speed of the screen when there are many properties

- Bookings List: When filtering on Booking Ref, Property and Guest Name, the filter will now locate fields that 'contain' the filter text rather than match the text

- Bookings Manager: Updated all filtering on text fields to search based on 'contains' rather exact match

- Trust Accounting: "Suppliers Funds Held in Trust" now only includes bill payments where the bill has not yet been paid

- Housekeeping Schedule: Fixed bug where entering blank financials values would cause an error. Now it converts to 0 when it saves

- Bookings Manager: Improved performance and screen updates when adding / cancelling / moving / editing bookings

- Property Assistant -> Basic Details: If already set as a franchised property, the drop-down selector was not pre-populated with Franchisees until the checkbox 'Franchisee' was checked

- Basic Work Orders: Fixed issue with Completed work orders from not being visible (applied also to 19.017.1)

- Accounting Functions: Disburse Owner Amounts: Now hides reservations in properties where Owner Accounting is not enabled

- Recurring Charges: Now has an auto-filter row in the grid

- Trust Accounting: Updated labels on various 'MC Cost Price' fields to make it clear these should include any taxes

- Fix for Quotes

- Australia ABA files: When confirming processed successfully, the processed batch was not moving to the 'Processed' tab. This has been fixed retrospectively in to 19.016.3+

- Trust Accounting: Payment Issue Report (and therefore 3-way rec) now includes GST from owner statement and also from TBS paid by guest

- Trust Accounting: Payment Issue Report (and therefore 3-way rec): Fixed bug where extras were being attributed to PM even when % set for owner to receive part payment

- Account Settings -> Trust Account Settings: You can now add ABA details for your operational account, for management payouts

- Trust Accounting: Payment Issue Report: This screen now allows you to make a management payout. This will be deducted from the trust account, and a pending ABA entry made in to your operational account

- Trust Accounting: Payment Issue Report (and 3-way rec): Any management payouts in the trust account within the current period are deducted from the payout amount

- Quick Property Setup: You can now set each property to a pre-configured commitment home type, and contract amount

- Additional Reports: New report 'Commitment Home Report'

- Extras: You can now specify a start and end date for an extra (TBS->Extras->Edit Extra), as well as set a manual flag for 'House empty on start date'.

- Specific Booked Cart Item Report: Now has Advanced option to show additional fields (Address, LBC, GC, AC, extra start and end date, and whether house is empty on extra start date. Dates show in red if different to the booking arrival and departure date

- Add New Booking: You can now choose to override the default rate-set with any other rate-set when adding a booking

- Bought-in Homes: Added new fields (Wi-Fi, Community / Resort etc) which are also now displayed in the Bookings List. Use the 'Include' option to include these details in the Bookings List

- Standard Reports: Expected Arrivals Report: Added an option to include 'Bought-in Homes' which opens an alternative version of the report

- Trust Accounting: Payment Issue Report was not calculating the margin when the MC cost price was $0

- Trust Accounting: Payment Issue Report: House keeping owner charge was taking the amount from the clean fee settings rather than the actual amount charged to the owner as set in the owner account

- Australia: The ABA file was not downloading due to an erroneous message about the account name length being too long

- Trust Accounting: Reconciliation Report: Payments from owners are now included in the report as well as payments from guests

- Trust Accounting: Money Held in Trust Report: Previously this included bookings that departed after the end of the current period, This has now been update to report for all bookings departing after 'today'

- Bill Payments: Fixed bug where an error would pop-up when printing a check if there is no Invoice Number assigned

- Quick Property Setup: 'Plain Text Description' from the default description set is now available to view and edit

- Owner Accounts: For Australian users, when viewing the annual reports, you now see the reports for July->June rather than Jan-Dec.

- Trust Accounting: Updated Payment Issue report (and 3 way rec) to calculate up to "today's date" rather then end of current month

- Trust Accounting: 3 way rec now accounts for reversed receipts

- New Report 'Work Order Item Usage' reports on Advanced Work Order items used within tasks starting between specified dates

- When saving Plain Text Description from Property Assistant, NewLine characters are no longer replaced with HTML <br> tags

- New Report 'Advanced Work Order Task Report' which shows tasks between specified dates, in a grid format and option to export to Excel

- Fixed bug when AOA mode is enabled, the 'Move Booking' window from Bookings Manager and Bookings Scheduler did not include AOA properties if there was an overlapping booking

- In Bookings Manager, it was possible for a user to use keyboard shortcuts to update the Supersite Agent for a booking, which should not be editable once set

- Tax Reports: Processing Tax to Owner Account: This process is now run one reservation at a time with a progress bar. This reduces the possibility of a time-out when processing a large batch of reservations

- Trust Accounting: Reports are now available even if the current period has not been closed

- Airbnb Property Features: Fixed problem introduced in version 19.015 where changes to features would not save

- Trust Accounting: Payment Issue Report / Housekeeping: This is now pulled from disbursed charges from the owner account, rather directly from the TBS

- Trust Accounting: When batching deposits for payment in to the trust account, you can now specify the trust account statement date

- Quick Property Setup: Can now edit the property Headline and Title (from default description set)

- Owner Account: When editing a credit / debit value, and pressing tab to the next field, then pressing save, the edited value would sometimes revert to the original value

- TBS: CS Agents can now edit the 'Booked By' field if they are a Secure Track Administrator (and the CS booking belongs to them)

- Trust Accounting: Fixed issue where an error would display when setting the trust account opening balance and date for the first time

- Trust Accounting: Update the disburse bookings function to stamp the disbursement date against the booking

- Trust Accounting: Update the MC Commissions Report to be based on the booking disbursement date rather than the booking departure date

- Trust Accounting: Update the Extras Margin Report to be based on the booking disbursement date rather than the booking departure date

- Trust Accounting: Update the 3-Way Reconciliation report to be based on the booking disbursement date rather than the booking departure date

- Trust Accounting: When paying a vendor bill (work orders or housekeeping),, the confirmation message now correctly specifies Trust Account rather than Owner Account

- Cleaning Schedule:: Create Bill from Cleaner: New column 'Vendor Paid' which shows whether a bill has already been created for that clean. If a clean has been created, you are now prevented from creating another bill

- Work Orders (Basic): Renamed 'Start Date' to 'Start Date / Owner Statement Date'

- Refunds Due Report: Fixed but where refunds within the past 2 years would not always show on the report

- Trust Accounting: Updated 'Payment Issue Report' to include new system-wide Owner Account Category called 'Credit to Owner', which is deducted from Management Company funds

- Trust Accounting; Trust Receipt ID now incremented and saved against Guest Payments, and now visible in the column chooser from the TBS

- Trust Accounting: New Report 'Trust Account Receipts' which shows guest payments / receipt IDs for selected date range

- Bills: Updated the look of the 'Edit Bill' screen. Removed the US style check, and replaced with a regular form

- Bills: When a bill is created, the bill owner account category comes from the Contact (Vendor / Creditor). You can now override the owner account category on the bill prior to marking the bill as paid and charging to owner account

- Contacts: Advanced: You can now specify whether a bill generated for vendor should charge the owner account for Tax 1,2 and 3. This setting is saved against the bill and can be edited on the bill before charging to owner account

- Bills: When a bill is created for a vendor, the option to charge the owner Tax 1, 2 and 3 is visible on the bill based on the setting against the vendor (See above). This can be overridden on the bill prior to charging owner

Update version: 19.011 (May 7, 2019)

- New Buy-in Report (in Additional Reports). This shows allocated / unallocated reservations between specified dates

- Increased the timeout when processing taxes to the owner account, to avoid errors when processing a large number of reservations

- Fixed bug when pressing Ctrl-Q to open quote, or when quoting from the Booking Scheduler, if the quote window is already open but minimized, it would not open or it would display an error.

- If processing a large batch of cleans to the owner accounts, and the process times-out, the screen will now refresh to prevent the possibility of processing duplicate cleans to the owner account on a subsequent attempt

- Bought-in Home Supplier: Specify contact as supplier, set AOA Property as Bought-in Home in QPS, then configure within the TBS. Details can be viewed from the Bookings List

- A new option in the drop-down menu to the right of the Property Chooser "Reset Screens". This unloads all screens that have previously been opened in the current session, to release memory and other system resources.

- Booking Scheduler: Fixed incorrect cursor icon when hovering over the property grid

- Franchisee now shows in Quote list (select from column chooser)

- TBS: Now allows default channel partner commission to be overridden when applicable

- TBS: Improved layout of the Rates tab

- Owner Accounts: The Email to Owner options were hidden

- Video button on top menu bar was hidden

- When logging in as an MC with incorrect credentials, the error message displayed said owners are not allowed to log in to the Windows app. Fixed bug so now correctly shows that the username / password was incorrect

- When printing a guest confirmation from the preview menu, the print-preview dialog box now pops up and allows the headers and footers to be removed

- Channels: Added Top Villas

- Channels: Updated SiteMinder to include Synchronization Category

- Added Google Authenticator

- Get Quote: Improved performance by approx 10x when getting quote for multiple properties

- When Trust Accounting is enabled in Admin, a guest payment added by the MC against a booking in the TBS will create a receipt ID (next in sequence)

- Trust Accounting: New Daily Reconciliation screen

- When Trust Accounting is enabled in Admin, a new Trust Accounting group appears in the left hand menu under 'Accounting'

- Settings Assistant: When Trust Accounting is enabled, a new wizard page is available to configure various options relating to Trust Accounting and receipts

- TBS: When Trust Accounting is enabled, and a guest payment has been added, there is a new option to Print / View the Trust Receipt

- Trust Accounting: New Unpresented Deposits Report

- Trust Accounting: New Reconciliation Report

- Disburse Bookings: When Trust Accounting is enabled, the Trust Receipt ID is recorded on the owner statement

- Owner Account: When Trust Accounting is enabled, the Trust Receipt ID is visible and can be clicked to open the Trust Account Receipt screen (where full details can be viewed and printed or emailed)

- Settings Assistant -> Trust Accounting: Can now configure ABA settings for property managers' bank account for sending payments to owners (Australia)

- Owners & Homes -> Other Settings: Can now configure ABA settings for owners' bank account for receiving payments from Property Manager (Australia)

- Bill Payments: Can now send payments to Owners via ABA file (Australia)

- Trust Accounting: New report - Money Held In Trust

- New "Trust Account" option to reflect the bank trust account, allowing reconciliation with bank and printing of monthly statements

- When Trust Accounting is enabled, the 'QuickBooks' menu is now called 'Batch Deposits / QB'. Use the Payments tab to batch payments from guests and owners in to the Trust Account (and optionally to QB)

- Trust Accounting: When T/A enabled, user can only choose disbursement rules based on departure date

- Trust Accounting: After entering the 'Accounting Functions' screens, the date last finalized is displayed in status bar at bottom of screen

- Trust Accounting: "Account Code Report" added

- Trust Accounting: Add new "Payment Issue Report" which shows all payments due to MC for the period

- Contacts: When Trust Accounting is enabled, there is a new drop-down box to associate a contact with a Channel Partner

- Work Orders (Basic): Refresh button now always enabled so the data can be refreshed at any time without having to first change a filter item

- Work Orders (Basic): When clicking to charge owner account, a pop-up box now asks you to confirm

- Users can now choose to charge the owner tax on specified items charged by the property manager. This includes Recurring charges, cleans, Basic and Advanced Work Orders and MC Commissions. Configure in Settings Assistant -> Tax Settings -> Owner Tax

- Updated to new default theme (Bezier) and fixed some layout issues on various screens within the app

- Added 'Refresh' button to Inventory screen to load data

- Access Control: Fixed bug where double-clicking on an Administrator user would open then 'Permissions' box. This box does not apply to Admins.

- Add option for LR and LF to update Floor rate from TBS

- Booking Category Settings: Updated title 'Use Default Commission %' to 'Override Default Commission %'

- TBS: Guest Folio now only available to scenario 2, 7, 8, 9, 11

- Updated Splash Screen

- Fixed bug on Guest Folio where adding an extra payable by guest could cause the confirmation template to display an error

- Recurring Payments: Can now specify a 'Cost Price' against the recurring payment, and also against an individual property. This will be stamped against the Owner Account (but not visible to the owner)

- Owner Accounts: You can now show column 'Cost Price'in monthly view. This shows the cost price as set in the new Recurring Payments option above, and can be edited if required

- Recurring Payments: When you choose to 'Process Selected', there is now a dialog box asking you to confirm to proceed.

- Recurring Payments: If the process times-out due to the number of properties being processed, the server will continue to process the charges and the user will be asked to check back shortly

- Advanced Work Orders: Task Items: When adding task items, the purchase price is now stored against each item (column available in the column chooser)

- Advanced Work Orders: Tasks: When overriding the charges manually, you can now set a manual cost price in addition to the owner charge

- Updated Skin-chooser to icon in top-left tool bar, which now shows a graphical list of available skins to choose from

- Bookings List: Fixed bug where 'Bedrooms' was showing blank

- Booking Categories: Updated so that Home Away and Trip Advisor categories can be set to automatically take balance payment on due date

- Notifications: Updated icons for a cleaner look

- Added a 'Refresh' button to refresh the property list in the property chooser

- The property chooser data is now stored in local cache, improving the initial logon speed. If properties have been added since you last logged off, then use the new 'Refresh'
- button above to refresh the list from the database

- Moved the Live Chat toggle switch to the lower status bar

- Manage Owners: When selecting Australia as owner country, can now modify state to view / change Australian state

- A mid-stay clean can now be set to add automatically on bookings where number of nights is greater than a specified amount. Set in MC Specific Property Details. This option is only available when clean frequency is set to 'End of Stay'.

- TBS: Recalculate Booking Rates from Grand Total: Fixed problem where the base rental rate could be miscalculated if some of the taxes are not applied

- Quote Update: Increased performance of quoting engine

- Housekeeping Schedule: New 'Pay Cleaner' button to create a bill from the cleaner

- Fixed bug where a mid-stay clean added via the TBS could be assigned to the wrong owner if the property-chooser selected property is not the same as the current booking property

- Work Orders (Basic): New 'Pay Vendor' button to create bill from the vendor

- Work Orders (Advanced): New 'Pay Vendor' button when viewing work order tasks, to create bill from vendor.

- Work Orders (Advanced) - If opening a Work Order from the Task View, after closing the Work Order an error would appear if no Work Orders had been open on the Work Orders tab

- TBS: The 'Supersite Agent Rate Details' box is now hidden for Scenario 8 bookings (as it's not applicable)

- Owner and Property Overview (F7): Now shows Owner Notes on the Owner tab

- When setting booking category via the TBS, you can now filter the drop-down list of categories

- Bills: You can now create bills for OTAs for Channel Partner Commissions on bookings departed in selected period

- Commissions Report: Fixed bug where Scenario 4 Bookings could sometimes show inaccurate commission amount

- Upgraded from DevExpress 18.2.6 to 18.2.7

- TBS: Increased the image / file upload size from 5Mb to 10Mb

- Work Order task and item images can now be up to 5Mb in size (was 1Mb)

- Advanced Work Orders: You can now upload files / images against the Work Order itself rather than just to a Work Order Task

- All grids and various other controls now use DirectX for graphics rendering which increases the scrolling and display performance

- Process Owner Booking Fees: You can now choose to to process these to the owner statement on specified date, booking arrival date or booking departure date

- When logging on as an owner, the user will be prompted to open the new Owner Portal and the app will close

- Disburse Bookings: Fixed bug where owner cleaning fee was not correctly recorded as having been disbursed

- Recurring Charges screen: Added row filters to the Property List and property drop-down when adding / editing a property

Update version: 19.003 (January 24, 2019)

- Total Booking Summary: Updated text boxes to support regions where a comma is used rather than a decimal point for decimals

- Bookings List: Disabled animation when scrolling month to month in the date pickers to allow faster date selection

Update version: 19.001 (January 22, 2019)


- Bookings List: Now has column to show number of bedrooms (in column chooser)

- Advanced Work Order - Items now have a 'Static Quantity' field that is manually filled in and does not adjust automatically as items are used.

- Advanced Work Order - Item Stock Level Forecast Report

- HomeAway Channel Screen: When entering this screen, if not already enabled for HA, a dialog box will ask a series of questions to determine whether to send you to
- the HA sign-up screen on the HA site

- Removed Vacay Home Connect from channel manager

- Added the following 4 new channels: HomeToGo, Best Rate Villas, Sunshine Orlando Rentals and AtlasVH

- Airbnb Messaging: Website Inquiry screen now has 'View Conversation' button when viewing an Airbnb message. From there you can view and reply to messages from guest

- Airbnb Channel: New 'Template' button to select quote template to use for auto-quote emails

- Quick Property Setup: Increased field width of cleaning fee to 7 digits

- New rate set / rates Audit history screen now available from TBS (General tab) and Rates screen

- Tax Reports: 1042 forms have been updated for 2018

- Fixed problem when sometimes the entire application window would go black when a long running processing is taking place

- Advanced Work Order Report: Added description

- QuickBooks Export - Deposits: Start and End Dates did not save previous setting, but reverted back to 2011

- Booking Scheduler: When dragging on timeline and selecting to add a reservation, the dates selected on the timeline were not set as default dates in the 'New Reservation' window

- TBS: When viewing Booking Scenario descriptions, descriptions for scenario 5 and 6 were transposed

- Scenario 4 Bookings: Can now opt in Settings Assistant to take MC commissions from amount - SS agent commission rather than current default of taking commissions off agent amount

- Property Assistant / Property Details: If editing fields, then opening the Airbnb settings, when exiting the Airbnb settings window, the edited fields would revert to their previous state

- Bookings List: When filtering by past / future / current guests, if in non-English language long-date format, an error would be thrown

- TBS: when adding an extra, the staff member adding the extra is now stored (reported in the Specific Cart Extras report)

- Specific Booked Items Report: Now includes staff member that added the item

- Credit Card Processing Screen: When using the 'Assign to Booking' button, if PC not in English language, then could sometimes get an error when searching for a booking

- Update 'Add Card' to use new PCI compliant service when a user adds / updates their card or bank account information

- CRM Manage People screen now includes cell phone as well as phone

- Software Settings Assistant: When changing default booking categories, the update would sometimes not be saved

- Booking Scheduler: When exporting to Excel, an error would occur if using custom colors and a booking category assigned to a booking had been deleted

- TBS / Folio: If a CS Booking then Folio option should not be available

- Balance Due Date in TBS can now only be edited by the Merchant of Record

- Automatic balance payments processing (Accounting Module must be enabled)

- Bookings List: When assigning an agent payment to reservations, the 'Paid By' flag was set to guest rather than agent

- Occupancy and Revenue Report: Fixed issue where it would sometimes time-out running the report

- LoveRenatls - When in a LR account in TBS, can now open the TBS as if viewing by the Supplier

- Image uploads: When uploading an image in portrait mode (rather than landscape) at certain dimensions, an upload error may occur

- TBS: Can now upload images, Word documents and PDF files to a booking, and add comments / view documents

- Rates: Fixed bug where updates to the season name would not always save

- Booking Scheduler: Fixed bug when double-clicking a booking (to view TBS), after TBS closed, the quote dialog box would open

- Booking Scheduler: When you drag along the timeline, previously the default action was to open the quote dialog. Now the user is asked whether to quote or add a booking / blackout

- Blackout Dates: You can now open Blackout Dates in the TBS and add cleans / inspections, notes

- Specific Booked Cart Items Report now has the option to include items from cancelled bookings

- Revenue Report now includes the number of nights

- 2 Factor Auth - SMS: system now works with Australian mobile phone numbers. Do not enter country code with phone number - this is added automatically based on country selected

- New 'Advanced Work Order' Report (in Additional Reports)

- SEO: Removed 'News' and Page Redirect 'Quick Picks'

- Property Location Selector: Location fields are now sorted in ascending order, and the filter row is available to search within the location fields

- Channels / HomeAway: It is no longer possible to disable the HA feed. Users must now contact their HA rep, who will deactivate and liaise with Ciirus staff

- Channels: RedAwning: Fixed bug where the MC rate set multiplier was not saving

- Fixed bug when adding an extra to a scenario 7 booking, an error would occur

- Bookings Schedule: Removed the View / Tools tabs and now view settings can be accessed from a dialog box by clicking the new 'Settings' button below the scheduler

- TBS: Added new 'Booking Flags' tab

- Settings Assistant: Added new tab to define custom booking flags

- Additional Reports: Added new 'Booking Flags' report

- Access Control: Added options to prevent access to Booking Flags and associated report

- Access Control: Can now double-click a row to open the permissions page

- Bookings List: Double-clicking a bookings now opens the TBS rather than Bookings Manager

- Bookings Schedule: Double-clicking a booking now opens the TBS rather than the Bookings Manager

- Moved Guest Pass to Settings Assistant

- Settings Assistant: Tax Settings screen now allows creation of new tax regions

- Settings Assistant: General Reservation Settings: Updated wording against the check-boxes

- Settings Assistant: General Owner Account Settings: Updated wording re sending net rental amount to owner

- Housekeeping Schedule: Double-clicking a clean (or clicking the 'Go to Booking' button) now opens the TBS on the Housekeeping tab

- When logged in to the Windows app as an owner, removed many unnecessary menu options and functions

- Scenario 4 Bookings (agent bookings where MC takes payment) now calculate owner and MC amounts on various reports

- Fixed bug where disbursing owner amounts on a booking with a 3rd party commission was not adding the 3rd party comms to the owner amount prior to deducting it, hence leaving the booking in the disbursement page with an amount owning to owner

- TBS: Removed the top-right 'X' to close the window, renamed the 'Close' button to 'OK'

- Rental Analysis Report: Fixed bug where selecting all categories, then no categories, then running the report would cause an error


- QuickBooks: Sometimes when exiting from QB, there would be an error if the Ciirus QB connection had not closed

- Work Orders (Basic) - when checked to include complete work orders, some work orders from prior to the chosen date range would show in the list

- Relocated status flags and the legacy Booking Requirements form in to a new dialog box. This is accessible from the TBS -> Flags tab

Update version: 18.019 (August 24, 2018)

- TBS: Guest payments: Can now set to reconcile / unreconcile payments (subject to Secure Track persmission). Admins can see who set to reconciled

- Guest Payments: Added new payment method 'Journal Entry'

- Full Payment Details Report: Admin users can now see if a payment is reconciled and the staff user that reconciled the payment. Non-admin users with SecureTrack permission can see if a payment is reconciled

- TBS: Users now cannot edit tax settings on HA PPB Bookings

- Edit Rates: Users enabled for HomeAway can not longer configure rate sets for calculation based on 'arrival date only'

- SecureTrack (staff) users can now enter cell phone number and choose to receive logon verification code via SMS

- Based on Ciirus Admin setting, all users must now enter their cell phone number / country upon logon

- Upgraded to DevExpress v 18.1

- Owner Charges: Fixed bug where a mandatory charge could be added to a reservation when the property has not been assigned that charge

- Sending owner confirmation from TBS: Fixed bug where owner amount may show incorrectly when MC viewing CS SS Booking

- Channel Manager: Added Multiplication Factor for rates

- TBS: Added 'Track Changes' to the General tab, and removed from Bookings Manager

- Bookings Manager: Fixed issue where occasionally the grid would not draw, and be replaced by a large red X

- TBS: Added 'Misc' tab containing the Status Flags, and removed from Bookings Manager

- TBS: Guests Tab has been added, and removed Guests from Bookings Manager

- TBS: House Keeping tab has been added, and removed from Bookings Manager

- TBS: The TBS window is now sizable

- Rates: When changing a rateset to weekly or monthly, a warning is displayed advising that only daily ratesets work with channels

- Disburse Owner Amounts: When set to disburse based on departure date, and a channel partner commission applied, and selected to include then deduce MC commissions, the CP comms would be deducted twice from owner statement

- TBS: Payments tab now has "Total" footer

- TBS: Extras: Can now set "Guest Folio" mode where guest pay one or more of the extras, where as the booking and other extras are paid by agent

- TBS: When in Guest Folio mode, the extras and payments are grouped (with subtotals) by Agent / Guest responsibility

- TBS: When in Guest Folio mode, a new button 'Guest Folio' is available which allows emailing / printing of folio template, with a full set of tokens available

- Bookings List: When 'Show Financials' is checked, new columns now appear, showing guest / agent amount and payments received from guest / agent as well as amount owed

- New Inspections Module Added

- Fudge Insurance Page: Now opens links in new default browser window

- Additional Reports: Were sometimes opening behind the main Ciirus window

Update version: 18.015 (July 27, 2018)

- QuickBooks Export: When selecting bills to export in a batch, the total at the bottom of the screen would not display the selected bill count and total

- Secure Track: Can now prevent staff access to the 'Additional Reports' menu. By default this is disabled for all non-admin staff

- Updated 2 factor authentication to send verification via CiiRUS Mandrill account for better reliability. Retrospectively applied this to 18.014

- Bookings List: Fixed bug where 'Amount in Owner Account' would show as 0 when booking is a CS Booking (applied to 014)

- Disburse Owner Amounts: Fixed bug where a previously processed clean could be deducted from the amount due to owner (applied to 014)

- SiteMinder: Fixed bug where an error could occur when adding a new set of credentials

- Disbursement Rules: Added new rule to pro-rate regardless of full payment being received

- Page Redirects: Can now include special characters in path names when adding a new redirect

- Disburse Bookings: Grid and Export now show MC Commission %

- Locking Systems: Added pool heat Device ID and Pre-heat duration

- The booking category can now be set from TBS as well as Bookings Manager. A new dialog box is used to set the booking category

Update version: 18.014 (July 3, 2018)

- Added a new menu item "Property Assistant" within the 'Properties' menu. This has the same function as clicking on the Status progress bar in the property chooser

- Seasonal Commissions: For nightly commissions, you can now specify that the set relates to the amount the owner gets rather than being MC commission. This results in a fixed MC commission, being the amount after the owner calculated amount

- Trial Balance: Included the owner extras as a deduction under the owner amount column

- HomeAway: Upper Price Guard has now been removed

- Owner Accounts (grouped view) - Added details of minimum owner account balance, and a row to show amount due to/from the owner based on Min account balance

- Add New Booking: When adding a booking and changing the property from the currently selected property, the bookings would sometimes be added to the current property

- Cart Extras: Fixed bug where either 'Discount Code' or 'Show in Cart' options had to checked, but would not allow neither to be checked

- Fixed bug where it was not possible to add a guest payment for scenario 7 bookings (as MC viewing a CS agent booking)

- Fixed issue where running a quote based on arrival date rate-set would return 0 rather than an error if the date bands have not been defined for the quote dates

- It is no longer possible for an agent to add a black-out date to a CS property

- Process Cleans (to owner account); Added a 'Refresh' button to reload the data

- Housekeeping settings: Default charges (in Software Settings Assistant): The clean type has now been added so can set defaults for specific clean types as well as bedroom count

- Quick Property Setup (Financial filter): Can now specify default guest charge, owner charge and MC cost price for cleans in each property

- Quick Property Setup: New 'Housekeeping' button which opens a new dialog box. On a per-property basis you can now set default cleaning charges for each clean type

- Housekeeping Schedule: Added a new 'Include Financials' check box to show guest charge, owner charge and MC cost for each clean. Can edit this values, or otherwise will use defaults

- Process Cleans to Owner Account: The charge to owner is now derived from the new defaults above (and can be overridden). See notes for rules / priority of the default settings

- New "Housekeeping Margin Report" (in Additional Reports)

- New 'Owner Unit Charges / Income' Report

- Channel Manager: Added CuddlyNest as new partner

- QuickBooks Deposits Export: Now shows credit card type in grid

- Revenue Report: Fixed issue where If an extra is added twice to the same reservation, the sum of those extras were not being reported

- TBS: Edits made to scratch pad were not saved if switching to another tab within the TBS. This has now been resolved.

- Contacts: 'Check payable to' column width increased to 150 (was 75)

- Fixed bug in Discount Extras being deducted from base rental prior to MC commissions being calculated

- Logon: If the user moved from one IP address to another, logon would fail if re-authenticating

- When adding bank account details for taking payments from owners, there was an error received from VGS

- Quick Property Setup: Added option 'Enforce AOA Stop Sale' (this is in in the 'Supersite / Channels' filter)

- SiteMinder to Channel Manager

- Added Fudge Insurance to DashBoard

- Scheduler: You can now choose to display bookings as a progress bar depicting payment amount received as a % of total. Red = not paid, orange = part paid, green = paid in full

- Updated to DevExpress 17.2 - general performance enhancements

- Booking Scheduler: Now defaults to high-contrast background for cleaner, more modern look (and better performance)

- Booking Scheduler: Time-cells with colored backgrounds (e.g. AOA properties / Not Rent Ready) now show with some transparency so can see weekends and day markers more easily

- Booking Scheduler: Change background color on cells where the date is outside of the date filter range

- Website & Marketing / SEO / Page Redirects. Fixed bug where the 'Add' button would not always enable after both fields had been entered

- Revenue Report: Cleaning cost to owner is now derived from cleans in the owner account associated with the booking. Note, this only applies to cleans processed to owner account from this version onwards

- Revenue Report: Now includes owner bookings

- SiteMinder Enhancements

- Custom Reports: Added Wi-fi information against property

- TBS: Take Guest Payment: Can now check so say send guest a notification email of card approval / decline

- Bookings List: Now shows an error if searching on a booking ID > 2 billion (previously it ignored the search criteria)

- Bookings Manager: It is no longer possible to edit the Supersite Agent (if set). This can only be changed by CiiRUS asmin

- Owner Accounts: After using the 'Print All' function, the property chooser would be cleared, and require restarting the app

- Additional Reports: Added 'Owner Statements Global Report'

- Property Chooser: Now includes property title and headline as per default description set

- Channel Manager: Now includes Lexicon

- Channel Manager: Airbnb listings now have an option to view the listing on the Airbnb site

- Channel Manager: VacayHome Connect was not saving settings

- Bookings List: Balance due date could show incorrectly depending on the time of day, when the user is in a different time zone

- Channels: Siteminder: Can now set Siteminder region against the credentials set

- Logon Screen: Renamed 'Password' to 'Company Password'

- Logon Screen: Removed the option to sign up for 10 day trial

- Booking Scheduler: Now includes city in the property panel

- Basic Work Orders: Now shows 'Property Address 1' against each work order

- When moving an owner booking, rates were being recalculated (this should only happen on non-owner bookings)

- Reports: Owner Account Global (Detail) now includes owner name

- TBS: Sometimes when deleting an extra, an error message would pop-up and the grid would not redraw

- Forced app to use TLS 1.2 to cater for clients that have not removed older security protocols (which in turn caused some credit card functions to fail)

- Fixed error in Trial Balance Reports that would sometimes be thrown when viewing

- Moved Bookings Report: Fixed bug where some moved bookings would not show in the report if the previous move event was prior to the selected date range

- Fixed bug that would cause cleans (being sent to Owner Account) to show as $0 in some cases

Update version: 18.006 (April 5, 2018)

- New Report (in Additional Reports): Monthly Reconciliation Report

- When voiding a check made to an owner, the payment is now credited back to the owner account

- Bookings List: Can now choose whether to include Tentative Bookings or not

- Settings Assistant: The Navigate' button now toggles between showing & hiding the Navigation window

- Booking Schedule: Fixed error message that occasionally showed when hovering mouse over the date headers

- Booking Scheduler: When displaying the day in the header, only 'Fri' would be visible due to the column width. This has now been widened.

- New MC Accounts are now added with the "Show Property Access Details On Work Orders" option checked by default

- Bills: When adding a new vendor, the owner account category drop-down did not display the category name

- When cancelling or expiring a HomeAway reservation, the user is now prompted to enter whether the cancellation is requested by the property manager or the guest

- Booking Scheduler: Filters in the property list now use 'contains' rather than 'equals'

- Channel Manager: Added VacayHome Connect

- Property Chooser: Users can now hide the 'Setup % Complete' column although it will be visible again upon next logon

- Quoting: When quoting in the app, a variety of new columns are now available in the column chooser

- Trial Balance Report can now be printed in tabular output for export to CSV, Excel etc

- Added 2 factor authentication when logging in

- Fixed bug where a CS Agent could not add a guest payment in the TBS for a Scenario 9 booking

- Property Features: Added Airbnb property features button

- Tax Reports: The gross amount now only includes the total of taxable items (also applied to version 002)

- Updated the booking scenario calculation in the owner portal to correctly show scenario 0 when an owner views an MC booking in their property

- Owner Accounts: When printing, removed the blank page that would sometimes appear at the end of the report

- 1042 forms: Moved the tax payers ITIN to box 13e (was previously 12g)

- When logged in as an owner, would get a 'Validation Error' when trying to send a guest confirmation for an owner booking

- Bookings List: When including financials, the tax location and tax 1,2 and 3 columns are now available in the column chooser

- Extras: You can now specify that an extra should be enabled for stock reporting, then run a report showing for each day, the level of stock based on usage

- Bookings List: When showing financials, the num nights, base rental, total (inc and ex tax) now show pro-rated based on nights within the date selection

- You can now upload your company logo to your website for use in the new standard website templates

- Rental Amount Analysis Report: Can now filter by booking category

- New Report: Undeparted Bookings - Payments in Hand

- Can now create 'Owner Charges' and assign them to bookings. These charges do not affect the quotes or what the guest pays, but is an extra amount taken from the owner by the MC

- Added 'Disburse Owner Amounts' to SecureTrack options

- Owner charges can now be set to deduct from Base Rental prior to calculating commission percentage

- Quick Property Setup: Added 'Charge guest cleaning fee', Cleaning fee amount, cleaning fee short stay threshold

- Quick Property Setup: Added an export option

- 1099 / 1042: Can now export the list to XLS

- Property Chooser now shows the Property Status (as set in the Quick Property Setup)

- Disburse Owner Amounts: Now includes Booking Category as a column

- Bookings List: Now has 'Property Type' column (select from column chooser)

- TBS: When logged in as an owner, the eCiiGN button for Rental Agreements is now hidden

- Description sets: When adding a new property, the default description set that is created is now called 'DS: ' rather than 'Description Set 1'

- Cart Settings: Can now only select either 'Discount Code' OR 'Show in online booker' rather than both.

- Quick Property Setup: 'Date off Management' is now editable even when property has not yet been deleted

- Commissions: Can now create 'Commission Sets with date bands defining MC commissions on reservations based on a selection of criteria

- Changed booking category color for 'HA/PPB' from pink to aqua

- Bills: Can now upload bill images up to 1Mb in size (was previously 300k per bill)

- Property Assistant: When working with a CS Property, certain screens that are not relevant are now hidden

- SecureTrack permissions now apply to the Property Assistant

- Updated the beta DataCash merchant gateway to fix problem with XML versioning

- New "Revenue Report" show breakdown of booking financials including individual extras

- Airbnb: Added a new 'Re-auth' button to allow a user to re-authenticate if necessary

- Custom Housekeeping Report: Now includes 'Bedroom Configuration' in the field list

- Moved Channel Partners screen from Property Assistant to Settings Assistant

- Secure Track: Renamed 'Password' to 'Staff Password'

- Disburse Owner Amounts: Can now choose to split out the cleaning fee to owner

- Fixed bug on owner account where sometimes the printed report would appear with no data

- Split Booking: Fixed bug where after splitting a booking, it was not possible to place a back-to-back booking starting the day of departure of the split booking

- Do not allow deletion of a property until all future bookings have been moved / relocated

- MC Commissions can now be set to take in to account Discount Extras applied to a booking (Settings Assistant).

Update version: 18.002 (Jan 16, 2018)

- Email Templates now allow up to 250k content length (was 100k)

- Disburse Owner Amounts: Fixed bug where some properties would show up for staff assigned to other properties

- Add New Booking: When adding a Black-out date, fixed bug where the TBS would then try to open with an error message

- TBS: When you open the TBS for black-out dates, irrelevant tabs are now hidden

- Manage People (CRM): Improved functions that return list of contacts with duplicate email addresses more efficiently

- When moving a black-out date within Bookings Manager, fixed bug where an error recalculating rates would sometimes show after black-out dates successfully moved

- Edit Rates: Fixed bug where saving an edit to a date band would not save until after focus had been moved to a different grid row or another screen

- Tax Reports: Fixed bug that would sometimes cause an error when tax date method = 'Tax Report Date Then Departure Date'

- Increased HomeAway image list to 50 images

- Settings Assistant: If you edit an existing booking category, then add a new category, the edits to the previous booking category were not saved

- Added Trial Balance Report

- Added new group under reporting 'Additional Reports'

- When new Admin setting 'DCR Template' is set, the app shows 'Home Page Top Paragraph' as 'Home Page' and hides 'Home Page Bottom Paragraph'

- When Admin setting 'Mobile Site' is not enabled, the 'Mobile' menu option is hidden in the app

- TBS: Added new 'Show Calcs' button below 'MC / Owner Amounts', which shows the detail of the calculations

- Website Settings -> Themes: Added new option to change site template. This must be enabled for the user with the new Admin setting, only when they are having a free website

- Booking Scheduler: Re-enabled the pop-up that appears when hovering over a reservation

- SSN / Tax ID now shows on 1099 and 1042 (this is temporary until reports have been run)

- Property Wizard: Tax names as defined by user are now displayed in the Owner Account Settings screen rather than "Tax 1' and 'Tax 2'

- Updated the mailto:// link in URL on the HomeAway inquiry notification window, which was previously incorrect

- Property Wizard: Tax 1 and Tax 2 labels were flipped, this has now been resolved

- Channel Partner Rate-sets: Since channel partners only allow daily rates, the drop-down rate set choosers now only show daily ratesets, with the exception of TripAdvisor who also accept monthly

- Billing Module: Account reference would not always be visible against a property on the continuation sheet

- Additional Reports: Add report to show bookings that have been moved between specified dates

- Tax Reports: The Property Name is now available in the column chooser on the tax reports screen

- TBS: When adding comments to a booking, the latest comment is now added to the top

- TBS: The Guest Payments now show the card type if the payment was added when taking a card payment

- Credit Card Processing: The card type is now available in the column chooser

- 1042 Reports: Updated for 2017

- 1099 Reports: Updated for 2017

- Bill payments -> Pay Owners: When paying owners by check or ACH you are now prompted for the owner account statement date rather than defaulting to today's date

- Owner Account General Detail report now shows the vendor for each item

- Software Settings Assistant: Maintenance and Work Orders -> Default settings would not save changes if the Finish button was pressed before navigating away from that screen

- Management Company -> Advance Work Order Settings: This menu option has been removed as settings are now configured in the Software Assistant

- Property Assistant: Housekeeping fee was not saving when if edited and the Next, Previous or Finish buttons were pressed

Update version: 17.034 (Nov 21, 2017)

- Reports: Created a new 'Reporting' group under the 'Management Company' menu, to replace the 'Reporting' menu under 'Management Company' group

- HomeAway Channel Screen: When set to guaranteed pricing, the 'Instant book' option is now selected by default

- HomeAway Channel Scree: Added maximum allowed variance for instant quote. Important, blank or 0 = default of 5%

- Website Settings -> Advanced: Can now enter HTML for Similar Properties

- North Carolina: New disbursement rule created to allow up to 50% of owner amount to be disbursed prior to guest arrival

- North Carolina: For users based in NC, the 'Send to owner account' option for rental income is now disabled in the TBS

- North Carolina: Added 'Owner Name' column to the grid. This is hidden by default and can be added via the Column Chooser

- Report "All Owner Accounts by Category" now shows arrival and departure dates for 'Rental Income' rows

- Bookings List: If a North Carolina user, the tax report date can no longer be modified

- DataCash (Master Card) payment gateway added. This is for non USA customers only

- Sending HA Inquiry reply - plain text not showing in all email clients

- Settings Assistant: Enabled the 'Info' buttons on each screen

- Owner Accounts: Grouped Account Print Format: Corrected owner amount balance total in the 'Payments to / from Owner' group box

- Bookings List: Added a new 'WYSIWYG' check box when exporting to XLS, which will retain formatting Extras detail rows

- Bookings List: The export mode now saves the file as .xlsx (rather than the older xls format)

- Property Assistant: Fixed issue where SSN / Check Payable To would not save changes

- Settings Assistant: Added Info buttons and help text

- Find: box at top of Ciirus screen now allows you to search for a CRM contact by telephone number by prefixing the number with t:. Note, the number must be an exact match to the number stored against the contact.

- When creating a quote, if a CRM contact has previously been selected then you can choose to add the quote to that contact

- Fixed bug where after adding a new quote, if selecting to view the quote in the Total Quote Summary, the window would popup behind the quote window

- Channel Partners: When you select to sign up with a new partner, the PM and Partner will receive welcome emails with contact details

- ECiiGN: Added 'Expiry date' option

- CRM Lead Import: At least one of the following fields must contain data in order for the lead to be imported: First name, Last name, Telephone, Cell, Email

- Blackout dates: You can now see the details panels to the right, in Bookings Manager, when a blackout date is selected

- Booking Scheduler: When filtering by Property Name, filter searches based on properties that contain the filter text in their name

- eCiiGN user interface added, ready for testing

- Newsletters and Templates: Edit Template: Tokens now display in a more consistent format

- Newsletters and Templates: New Template: You can now specify the template category when you add a new template

- Add Reservation: "Open Total Booking Summary" option now defaults to Checked

- Added new Software Settings Assistant

- Moved CC Payments -> Credit Card Types to Settings Assistant

- Moved Owner Account Settings to Settings Assistant

- Moved User Account Settings to Settings Assistant

- Moved MC -> General Settings to Settings Assistant

- Moved RX Work Order Settings to Settings Assistant

- Updated all web controls to use embedded web browser (based on Firefox) rather than relying on the installed version of Internet Explorer / Edge on the user's PC

- Updated app to use .net 4.5.2 (was 4.0)

- Updated scanner drivers (Assets) to work with .Net 4.5.2

- Channel Manager: HomeAway: You can now set pricing model as either Quoted or Guaranteed on a per property basis

- Total Booking Summary: Added a new 'Scratch Pad' tab where an MC (and agent if applicable) can enter free-format notes relating to the reservation. These notes do not appear anywhere else in the system.

- Can now set a user to tun in 'Mac Mode' which disables any HTML editors whilst testing.

Update version: 17.027 (Sep 20, 2017)

- Property Image Gallery: Fixed bug where images of the same name, uploaded to 2 properties in the same account would sometimes appear under the wrong property

- Template Editor: Removed spurious text box that appeared over the HTML editor

- New Channel Manager top menu and partners menu to left

-Disburse Bookings (pro-rate mode only): Fixed bug where a reservation arriving on the last day of processing month may not always have that 1 nights commission deducted from owner account

- Disburse Bookings: Prevented black-out dates from showing in the report

- Enable 'move' menu for blackout dates

- Property Chooser - Larger default control size/scalling

- Total Quote Summary: Can now 'Set quote total' in the same way as you can with a reservation

- When connecting to a new Channel Partner, you now get a dialog box giving more details about the channel

- Commissions Report: Fixed bug where a booking may appear twice if the property containing the booking had been cloned to a Calendar Sync user

- Check Printing (From Bill Payments) - Fixed bug where the property vendor account number would not display on the overflow page

- A CS Agent was not able to change the pool heat setting on a booking they made. This has now been resolved

- Fixed bug where uploading a scanned image against an asset would not always display against the asset

- Standard Reports: Property Rates - Now defaults to show future rates only with an option to include past rates

- Rates: Added option to view archived (historical) date bands

August 14, 2017 - version 2017 (build 17.025)


- Enable 'move' menu for blackout dates

- Booking Scheduler: Remove spurious context menu on booking to add a reminder

- Updated "Add New Owner" screen to match that used in the new Property Assistant

- Minor Property Assistant updates

- Updated the Secure Property Details screen to improve functionality. Add Item button now opens dialog box to add a new item rather than using the top row of the grid

- Fixed bug in TBS where sending payment to owner account could cause an error for scenario 7 bookings

- Fixed issue when printing owner statements sometimes printed a blank page at the end

- Fixed bug where some tentative bookings may show up in the 'Process Owner Booking Fees' screen

- Add New Email Template Editing Mode For Plain Text Only

- Restrict Select-able Templates in HA Channel Manager Screen to Plain Text Only

- Add a way to set a template as Plain Text Only

- If deleting an Owner, do not allow property_import_owner to be deleted

- Add MasterPropertyID to property chooser for CS Properties

- Final parts of Property Assistant completed

- Users can now view all invoices from Ciirus (Account Settings -> User Account -> Invoices)

- When a notification is read, the system now stores the users' IP address and Staff ID

- Fixed bug where check designer would not always correctly align the 'amount in words'

July 19, 2017 - version 2017 (build 17.018)

- Invoices and Assets: Fixed bug where deleting an invoice would not always remove the invoice

- Total Booking Summary; Fixed bug where sometimes the pool heating amount is not editable

- New "Add Reservation" form to add reservations and black-out dates

- Fixed problem uploading images > 4Mb

- Can no longer delete a domain name if it's listed as a default SSL for the site

- Bookings List: Fixed bug where guest email address and telephone number would not update when the CRM record is updated

- Quote Options: Terms & Conditions now moved in to a dialog box rather than a separate tab

- Can now press Ctrl-Q short-cut key to open the Quote Window

- Can now add a reservation or black-out dates from any screen in the app by pressing 'Ctrl-N' or clicking the new 'Add Reservation' button at the bottom-right of the main screen

- Pool heating options can now be switched off for a user, if non of their properties have heatable pools

- Add "HotelAndResturantLicenseExpiry" to MC Specific Property Details

- If a user is not enabled for AOA, the 'Add Property Wizard' no longer requests an AOA category and the AOA Category settings tab is now disabled from the Booking Settings screen

- Fixed bug uploading some web images

- Recurring Charges: Fixed bug where adding a new charge would add it twice. Also applied to 17.017

- Property Images now upload an HD version (for HA)

- Fixed bug when saving Guest Portal Amenities and House Rules (applied to 015)

- Fixed bug where adding comments from the TBS, when opened from the Bookings Manager, would cause the comment to revert back to previous comment

- Property Image resizing now processed by the server, so only uploads a large version of the image from client PC

- Balance Due Reminders should now support the new CS Extras split functionality

- Channel Manager: On the HomeAway screen, monthly rate sets are now hidden since these are not supported by HA

- Booking Schedule: Fixed bug where properties with a colored background may appear to distort the bookings as you scroll the schedule screen

- Credit Card Payments: When processing a live refund of an owner payment, fixed bug where the amount could sometimes be shown as a credit in the owner account

- TBS: When sending Guest confirmation from TBS, MC can now send owner confirmation

- Occupancy Report (in Standard Reports) now shows blank cells as 0

- TBS: Fixed bug when adding a Private Booking Comment, would sometimes cause a DBNull error

- TBS: When adding public and private comments, the time (as set on device adding the comment) is now included

- Template Editor: Added new tokens for down-payments and security deposits

- Supersites: Bookings made by agent / for supplier, removed CS bookings as these do not apply in those reports

- Bill Payments: End user can now edit the check layout

- Guest Services / Access Control: Added SelfDrives Admin panel

- Ciirus TV Web Window now muted to avoid clicks when it refreshes

- Cart Settings: New option 'Stay Collect Fee' used currently for HA v4, flags the extra as payable on guest arrival

- Property Image Gallery: Rewritten gallery to support drag / drop and view options to see thumbnails larger on-screen

- Property Image Gallery: Can now select multiple images (or ctrl-A for all) then delete all selected

- TBS: Comments can now be added multi-line

- HomeAway: Can now set Cancellation Policy (for v4)

- HomeAway: Added new read-only field for AOA units called HA AOA Unit ID. This is hidden by default but can be displayed by adding it via the column chooser

- HomeAway: Can now set if Instant Bookable (for v4)

- Website Settings -> Location Lists: Added extra location information to the location list grid, such as Community ID, Community Name, City, State, Country etc

- We are restricting access to iCals for fraud prevention and to secure calendar data from being obtained by parties who do not hold proper agreements with Property Manager and Ciirus Inc

- Image uploads now allows files with .jpeg extension

- New Occupancy & Revenue Statistics report (Standard Reports -> Occupancy Reports)

- When saving HomeAway property features, the 'PropertyLastUpdated' date is now set, which triggers an update to HomeAway

- Supersites -> Configure Properties for your Agents: If imported then can no longer edit or delete the details for selected property

- Arrival Packets: Can now print up to 500 at at time (was previously 100)

- Arrival Packets: Fixed bug where selecting all bookings based on a filter in the Bookings List would not pass the filter on the the Arrival Packet screen

- Owner Statement Printing: When selecting to 'Print All', the statements are now produced sorted by Property Name

- Online Booker Settings: Can now specify the card re-try count

- Web Image Library has been re-designed and allows drag and drop of images to arrange their sort order when viewed in the image chooser. Now allows jpeg files to be uploaded

- Image chooser (image library) now has a new look and feel. Web images are arranged by the sort order set in the new Image Library. Double-clicking an image will add it to the page. You can resize the form to view more image at a larger size

- Template Editor: Can now open the image library from the tool menu

- Property and Web Image Gallery: When you hover the mouse over an image, you can click hyperlink to open up large version of the image

- Fixed bug where a quote could no longer be converted to a tentative booking

- Pay Owner Checks: Fixed bug where it may not always be possible to 'Void' a check payment made to owner

- Fixed issue where CC fees to disburse to owners, would calculate fee based on total received by guest rather than just CC fee received by guest. Also applied this fix to version 013

- Calendar Sync Extras split

- Booking Detail report now supports calendar sync bookings

- Update layout of TBS

- TBS: Moved Property Map to its own pop-out window

- TBS: Moved the 'Email Quote' option to a pop-up dialog box

- TBS: Tax Settings now in a new pop-up window

- TBS: Moved 'Guest payment link' from Quote Actions in to a pop-up dialog box

- TBS: Replaced the "Quote Actions" group with a pop-up menu

- TBS: Send to Owner account is now in a new pop-up window with improved formatting

- TBS: Set Booking Total is now in a new pop-up window

- TBS / Booking Category: The 'Tax Exempt' setting is now a check box against the booking (in new pop-up window above), rather than against the Booking Category

- TBS: Percent of cleaning fee to MC is now in a new pop-up window

- TBS: "Add Guest Payments" is now in a new pop-up window

- TBS: "Edit Extra" is now in a new pop-up window

- TBS: Removed the "Add / Remove" pool heating button, and enabled the "Pool Heat" check-box to specify whether pool heating is required or not

- Cleaning Schedule: You can now search for a specific clean ID if known

- TBS: Property images now in a new pop-up window via the 'Booking Actions' button

- The 'Find' bar on the main screen can now be used to for a Booking ID, Clean ID or CRM contact ID

- TBS: You can now click to see a description of the booking scenario

- Quote Settings: Cancellation Policy and Local Charges fields now allow up to 4000 characters

- General grids: Filter bar now shows icon to show filter mode, which can be clicked to change (e.g. contains, does not contain, equals, greater than, less than

- General grids: Where grouping is supported, you can now do an 'in-line' group by holding down the Ctrl key while dragging the sub-group to the group bar

- Booking Scheduler: Performance increase when scrolling around the timeline

- CRM: Can now store an alternate email address. This is also included in the contact export

May 1, 2017 - version 2017 (build 17.013)

- Quick Property Setup: You can now enter a credit card fee % to be deducted from owner account when disbursing owner payments

- Disburse Owner Amounts: Will now charge and itemize credit card fees on owner account (as configured above)

- Date and staff user ID now stamped against general and private booking comments. Comments are now available through a new tab in the TBS

- New 'Split Booking' feature in the TBS. Can specify a date to split and rates / extras / payments will be pro-rated between them

- New 'Rent Ready Date' option, set in Quick Property Setup. This prevents bookings being added from within the app, or quotes being made

- Can now create a user defined list of Property Statuses, e.g. Not yet built, setting up etc. These are configured and assigned in Quick Property Setup

- New Property Status Report (in Property List screen)

- Standard Reports: Fixed issue where a long company name would cause the header to wrap and be partially hidden

- Manage People: Grid now includes 'Date Added'

- Manage People: You can now optionally include comments in the results grid

- View Web Inquiries: Now shows 'Party Size' and 'Number of Nights' when specified

- View Web Inquiries: Comments are now displayed in the row ni a pop-up memo box (rather than a separate row)

- Supersite Agent list - you can now specify an email address the selected Agent should contact you on - this is passed to channels via our API

- Fixed bug that was preventing the ? icon from appearing in the Guest Confirmation to allow selection of an email from the contacts list

- Updated web services to run off app server for improved performance and fault tolerance

April 12, 2017 - version 2017 (build 17.012)

- Owner Account Balance and Monthly Owner Account Balance Reports now hide properties that have "Owner Accounting" disabled

- When creating a Clone property, owner accounting will be switched off by default

- Can no longer create a clone from an AOA property

- Owner Account Settings: Can specify whether the payment link is visible to the owner (only applies if MC has valid merchant account)

- Owner Account Settings: Can now set the format of the owner account print - Classic (default) or Grouped. Note, the grouped format does not take in to account minimum owner account balance

- Assets: Fixed bug where adding a new asset after first changing the date filter, would cause an error

- An MC can now specify whether an owner is allowed to add a new booking (Manage Owners)

- Airbnb, if a property experiences an error with the Abnb API, this is shown in the Channel Manager

- On a per-property basis, can now specify if editing a bookings date or property will automatically update the rates

- Fixed bug when manually expiring a tentative booking in the TBS, the 'back to back' status on other bookings would not be updated

- Created new top menu "Guest Services" and navigation group containing GuestPass and Fubble. GuestPass is only visible if an MC logged on and with Access Control permissions to Website & Marketing

- Channel Manager: Tripping.com added as its own tab

- Can now specify 3rd party commission amount (set against booking categories). This is expressed as a % and deducted from the MC commission on owner statements. Only used in pro-rate disburse mode.

- MC Commission and 3rd party commission amounts now pro-rated based on date period when disbursing owner amounts

- Disburse owner amounts: Bug fixed where amounts in a selected period were showing to be distributed again

- Disburse owner amounts: Now uses following logic when disbursing pro-rate amount. If booking arrives in period then statement date = arrival date. If departs then use departure. If neither then use 1st of month

- Print owner accounts: When set to display month and YTD summary totals, the summary now shows on new page and includes page headers

- Booking Action History now shows user rather than ID

- Disburse owner amounts by pro-rate date period. Updated so that statement date is 1st day of the selected month

- Specific Cart Items Report: Fixed bug where the title would incorrectly show 'Bookings Arriving' when user has chosen bookings made or departing

- HomeAway Image Sort: Now correctly states 24 images max to HomeAway (rather than 25)

- Copy Booking: Updated so that when a booking is copied from one property to another, the tax rates of the destination property are applied to the copied booking

- Dashboard: Arrivals and Departures grids now allow filtering

- Bookings List: Now get a more meaningful error message when you try to access the TBS for a blackout date

- Occupied Properties Report - Can now choose to sort by Property Name, Next Guest Arrive Date or Days Between (click column header to select)

- Disburse owner amounts: Can now specify a new category rule "disburse pro-rate amount" which is selected in the Disbursement screen

- Quote Options: Fixed spelling error

- When enabled, incomplete end of stay cleans are rolled over to the following day

- Stripe payment gateway: Now uses currency set against the rateset that was used at the time of booking.

- Owner Accounts: Can now opt to show category summary box (by current period and YDT). Set in Owner Account Settings

- When deleting a property, if there are any future SS bookings, the user is warned and asked to confirm they want to proceed.

- When deleting a property, the HA and RA feeds are disabled (for the master as well as any clones)

- When deleting a property, any clones are deactivated from websites and assignment by the MC (although the clone properties are not deleted)

- Updated BeHome247 URL in dashboard

- Fixed bug where right-clicking a booking in BM would often cause an error prior to the pop-up window opening

- Improved loading speed of General Website Settings

- Added HomeAway image to LID mappings (Website Advanced Settings -> Locations)

- Added TimeZone to Quick Property Setup

- Copy Booking function now also copies the tax rates

- When moving a booking to a new property, if the property 'Force Clean' option was not set, then the clean(s) would not be moved to the new property. The 'Force Clean' setting is now ignored when moving a booking with existing cleans.

- Quote Settings -> Short Stays -> Housekeeping. For short bookings you can now specify a value over 100 for number of nights

- Guest Portal - Can now specify a house rule either applies to all properties or to a selection of properties

- Guest Portal - Can now specify a location amentiy either applies to all properties or to a selection of properties

- Updated some left-menu icons to make them look more modern and consistent

- Quote Options: Cleaning Fee - this now allows storing of values with 2 decimal places

- When selecting a reservation in Bookings List to view in Bookings Manager, if the reservation has been cancelled it will now still show in the Bookings Manager

- When selecting a reservation in Bookings List to view in Bookings Manager, it will correctly show in BM when the booking is a CS booking and you are the master

- Nomad: Added Community 'Disney Special' for Ocean spreadsheet import

- Manage Owners: You can now store the owner's USA bank account and routing number (used for paying owners via ACH)

- Pay Owners: Property Managers can now enter their bank account, routing number and account name for ACH transfers from that account

- Pay Owners: Option to pay via ACH

- When specifying a new password, can no longer enter the disallowed asterisk character which could subsequently prevent logon

- New style Guest Confirmation from the Bookings Manager

- Added icons to the Bookings Manager right-click pop-up menu

- Guest confirmation can now be used by Master MC for clone bookings to send agent confirmation

- When printing checks to owners, the owner address is now included on the check

- Checks to owners are now aligned accurately

- Bill check printing, fixed bug where 'alternate' check format was not being used when selected, and improved field alignment

- Test version 002 released - Specifically the new 'View Invoices' option under account settings and the secure track setting for it

- Can no longer delete a property if there are any future CS bookings

- You can now view all invoices from Ciirus within the app

- Upgraded to latest DevExpress version 16.2

- Fixed error where the guest confirmation (from TBS) would not allow 'Guest Confirmation' option to be selected

February 1, 2017 - version 2017 (build 01)

- HomeAway Amenity Mappings added (Property Details)

- SecureTrack: You can now specify whether a user can cancel / delete a booking

- You can now specify that in TBS you cannot click 'checked-in' if the previous booking has not checked-out. Configure this on a per-property basis in Quick Property Setup

- Description Sets: Description Set picker now has a filter row

- House Keeping Schedule: Added number of guests (previous booking)

- Description Sets: Now has a new 'Verified Host' option

- Description Sets: Can now specify distance to nearest town / city center

- Blogs: Can now specify Page Title, Meta Tags and Meta Description for Blog entries and categories

- CRM: Can now view list of viewed properties

- CRM: Can now view list of of 'Favorited' properties

- Bookings Manager / TBS: Sending Guest / Owner confirmation now has a new shared dialog box rather than drop-down control within the screen

- Rateset Mark-up tool now allows negative values

- Updated 1042s to work with 2016 forms

December 06, 2016 - version 2016 (build 041)

- HomeAway property features: In the Property Features menu, you will now see the new HomeAway button which opens the specific HA features window. There are almost 300 check-boxes, so hopefully the layout is OK!

- You can now specify that a staff member / franchisee cannot cancel or delete a booking under Access Control

- In Quick Property Setup, there is a new check box to specify that you cannot check a guest in (in TBS) if the previous guest has not checked out. You will now see in the TBS next to the Check-in area, that this will be grayed out if the previous guest has not checked out. There is also a link to open the previous booking on the check in/out screen which might be useful to quickly check previous guest out if required.

- HomeAway auto-inquiry responder will now use the default quote template if the user has not set one specifically for HA.

November 23, 2016 - version 2016 (build 039)

- Total Booking Summary: In the General Tab, the staff member that placed the booking is now shown. This can only be edited by an Admin user

- Total Booking Summary: For a CalendarSync Booking, a supplier can only edit / delete their own extras and an agent can only edit / delete their own extras

- Rate Sets: Historical date bands can no longer be edited

- Fixed bug where editing Quote Settings and setting the Security Deposit to 'None' may cause an error (applied this to 036)

- Added support for Stripe credit card processing (payments, security deposits and refunds)

- When a master rateset is edited or changed, the email to clone agents is now sent to all the agent's email addresses specified (not just the first in the list)

- Supersites - When you select to allow an agent to create a Calendar Sync clone of a property, the box 'Use Nightly Floor Rates' will now be checked automatically

- CRM Person Editor now checks basic validation of email address format

- HomeAway Enquiries module add to app. Set templates for Auto-reply, Manual Date Specific and Manual non-Date Specific in the HA Channel Manager. Reply to HA Enquiries in the "Website Enquiries" screen by pressing Crtl-R or clicking "Reply". Can also view quote for date specific HA enquiries.

- Contact Export (in Standard Reports) now includes address of contact

- Owners can now edit booking tax rates on their own bookings in the Total Booking Summary

- Move and renamed "View Web Enquiries" in to the Quotes section "View Web Inquiries"

October 24, 2016 - version 2016 (build 036)

- Fixed bug on Basic Work Order module where on occasion some franchisees would see work orders from properties they do not have access to.

- Fixed bug where the balance due date on guest confirmations for owner bookings would not use the balance due date as stamped against the booking (but use the default property balance due date instead).

- Fixed bug where moving a booking within the same property did not send email notification to MC.

- Bookings List: A CS Agent can now view reservations that are in properties deleted by the master MC (check box in the 'Include' menu)

- View Saved Quotes: When looking at CS Booking quotes, the property name now correctly shows the clone property name rather than the Master Property Name. Added other CS compatibility fixes

- Cleans: Fixed bug where cleans added and updated were not showing on the change tracking log

- Newsletters & Templates: Can now specify if all Franchisees or a specified list of franchisees have access to individual templates

- Security Deposit functions added

- Cart Settings: The cart item list now has a filter row

- Bill Payments (original): Account numbers on batch check continuation sheet were missing

- Fixed bug where balance due date on owner bookings may sometimes be mis-calculated when sending the guest confirmation

- CalendarSync: Can now only create a clone if the master property is configured to use Nightly Floor Rate in supersite settings

- CalendarSync: When a master property is deleted, all clone agents are notified

- CalendarSync: When a master property is disabled, set to not allow online bookings, or 'Allow Clones' is disabled in supersites by the supplier, the CS agent is notified

- Payment link from owner for owner account now visible for all merchant gateways

- Edit Rates: You can now add overlapping date ranges which will insert between existing ranges. A repeat interval can be specified for example to add weekend rates

- Added Beyond Pricing tab in Channel Manager

- Added [communityresort] token to Newletters and Templates

- Dashboard: Now shows Checked-in / Checked-out status on Arrivals and Departures tabs

- Rate Sets: Date Bands can now be set to 1 night only, so the 'Date To' can be the same as 'Date From'

- When using the 'Get Quote' screen within the app, the down payment amount is now displayed

- When quoting from the Booking Scheduler, the down payment amount is now displayed

- Updated My Booking Pal tab in Channel Manager to show configuration screen

- Secure Track: Fixed bug where the Dashboard may not allow switching to certain views when other views are disabled for that staff member

- Fixed bug where the Featured Home property selector in Website General Settings would show the name of the property set by the owner rather than by the Property Manager

- SecureTrack: Dashboard 'Overview' has been removed as a SecureTrack option as this should be visible to all staff

- Standard Reports: New report 'Occupied / Vacant' Report

- Fixed bug where sometimes a Clone Agent would not receive the email notifying them of a rateset change made by the Master. Applied this fix to 032

- Fixed bug when taking an owner payment (credit card or e-check) an error would pop-up after approving or declining the payment

- Fixed bug where a reservation selected in Bookings List to view in Bookings Manager, when outside of the date range selected in Bookings Manager would display an error. This now automatically adjusts the Bookings Manager date range in order to show and select the reservation.

August 10, 2016 - version 2016 (build 032)

- Adding new secure track user - fixed email address and telephone fields as characters were encrypted

- Nomad Admins can now choose to view Future-only or all bookings when in the administration screen

- Improved way SecureTrack prompt for email address and password is handled when logon fails

- Dashboard: Combined view of Housekeeping schedule now includes cleans between specified dates, rather than cleans where the associated booking arrives / departs between the specified dates.

- Bills (Rental Exchange version): Fixed bug where a staff member with access to all properties could not see bills for any property

- On the notification pop-up, fixed the issue where the URL to a new Airbnb listing changed https to http

- Description Sets: Fixed bug where adding a description set, the Headline field would not save

- Edit Rates: The drop down chooser to select rate-set now allows filtering by searching for text within the rate set name

- Fixed bug where moving a blackout date would sometimes create a clean

- Added spell checker (currently US only). RX only

- Upgraded DLLs to 16.1

- Date Off Management, can now be edited

- Disburse Owner Amounts: Now shows grand totals at bottom of grid

- Disburse Owner Amounts: Can now export all data to CSV

- Bills (Rental Exchange): Can now print a report of the current filtered view

- Bills (Rental Exchange): 'Date Bill Paid' date now blank if the bill hasn't been marked as paid

- Bills (Rental Exchange): When viewing the properties within a bills, new column to show whether in the owner account

- New report "Rental Analysis by Property". SecureTrack Admins have access to view for any Franchisee. Franchisees can only see data for their own properties

- Credit Card Processing screen. Fixed bug where sometimes the last 4 digits of the card number showed the last 4 digits of the tokenized card number

- Resized Admin pop-up notification Window

- Fixed issue when closing an info video screen, the audio would sometimes carry on playing after closing the video

- Training videos icon now visible to all MCs once logged in

- Booking Confirmation emails sent from Bookings Manager for CS bookings by the agent now correctly show the CS Clone property name and website property name

- Total Booking Summary: When adding extras, there is now a searchable grid that pops up to choose the extra to add

- Work Orders (basic). When sending the WO to owner account, the work order ID is now included in the description

- Added 2 new tax / license types against MC Specific Property Details - 'Hotel and Restaurance License' and 'Local Business Tax'

- Standard Reports: New report 'Property Licenses' to show the various license / account numbers per property. If logged in as a staff admin you can choose from all Franchisees. If logged in as a franchisee you can only view your own property licenses

- Bill Payments - When marking a bill as paid, and the amounts are sent to the owner account, the 'Comment' is now entered in to the owner account description

- Franchisee column added to: Property Chooser, Work Orders (Basic), Process Cleans, Bookings List, Shows at bottom of screen next to property ID

- Guest confirmation emails in Newsletters & Templates can now use new token [lastpaymentreceived] to get the amount of the most recent payment. This can be used for Guest / Owner Confirmation as well as in CRM emails

- Bookings List: All the 'Include' filters can now be saved and restored

- Bookings List: Can now show the master property supplier for CS Bookings you have made (scenario 8)

- Secure Track: You can now specify that a staff member / franchisee cannot edit check details once the check has been paid

- Owner account balances report: The 'Due' column has now been split in to 2 columns, to specifically show amount 'Due to Owner' and 'Amount due by Owner' with grand totals at the end of the report

July 26, 2016 - version 2016 (build 029)

- Adding new secure track user - fixed email address and telephone fields as characters were encrypted

- Nomad Admins can now choose to view Future-only or all bookings when in the administration screen

- Improved way SecureTrack prompt for email address and password is handled when logon fails

- Dashboard: Combined view of Housekeeping schedule now includes cleans between specified dates, rather than cleans where the associated booking arrives / departs between the specified dates.

- Bills (Rental Exchange version): Fixed bug where a staff member with access to all properties could not see bills for any property

- On the notification pop-up, fixed the issue where the URL to a new Airbnb listing changed https to http

- Description Sets: Fixed bug where adding a description set, the Headline field would not save

- Edit Rates: The drop down chooser to select rate-set now allows filtering by searching for text within the rate set name

- Fixed bug where moving a blackout date would sometimes create a clean

July 19, 2016 - version 2016 (build 028)

- Updated credit card payment template tokens that were occasionally showing incorrect currency against properties that were not in US Dollars

- Updates to International Authorize.NET payment gateway for better approval rate

- Credit Card Processing: When you click to flag a payment as manually approved, the comments now state the staff member that manually made the approval

- Updated URL for Google Analytics

- Fixed bug where sometimes confirming a booking that was initially placed as tentative would result in 2 cleans being scheduled

- Standard Reports: You can now choose to include or exclude data from deleted properties

- Work Order Module (original): The right-click context menu in the column headers has now been enabled

- Training Videos added

- Airbnb now available in the Channel Manager

- System now prompts for email address of secure track users when logging in, if not already provided

- Several 'Info' buttons added on various app pages

- Dashboard: Back to Back bookings shown in red on arrivals, departures and combined views

- Credit Card Processing Screen: When processing a refund, can now only enter a positive amount

- Average nightly rate now shown next to the Base Rental Amount in the Total Booking Summary

- Total Booking Summary: New icons for more modern look

- Housekeeping Schedule: Cleans assigned to a property that is configured to not automatically add cleans are now displayed in the report

May 27, 2016 - version 2016 (build 024)

- Newsletters and Templates - Can now assign each template to a specific Franchisee / Staff Member.

- Departures Report: Can now choose to show charges (total, paid and due)

- MC Specific Property Details: New tab for lock codes

- MC Specific Property Details: Can now store additional codes such as garage code, lobby, fitness room, pool access, beach access, media room and after-hours codes.

- New tokens for use in the Guest Confirmation and CRM templates for above codes

- Get Quote: You can now opt to show booking restrictions on the quote results

- Newsletters and Templates: New token [propertycommunity] for the community name of the property

- Newsletters and Templates: The standard address format has been changed to more standard address format

- Total Booking Summary: You can now view and change the 'Booking Contact' (within the General tab). This is the same as the field that can be set within Bookings Manager

- Templates / CRM: New token [bookingcontact] to show the Booking Agent Contact as set in Bookings Manager / TBS

- You can now disable owner accounting for a property (Quick Property Setup -> Enable Owner Accounting). When not enabled, owner accounts cannot be viewed and other areas of the software such as tax reports, recurring charges, owner booking fees etc will not show the property

- Updated DLL components

- Fixed bug where taking a security deposit with Authorize.Net would sometimes throw an error (applied this to 019 and 021 also)

- Fixed bug where a mandatory extra charged as a nightly fixed rate could occasionally calculate as just 1 night. Applied this to version 019 and 021)

- Fixed some minor rounding errors on the occupancy report average rental rates

- Added 'Linen Cupboard Code' and 'Lock Programming Code' fields to the 'Access Codes' page in MC Specific Property Details

- Access Control / Reporting: You can now enable or disable access to the Rental Amount Analysis report for staff / franchisees

- Updated built-in web browser windows to support latest installed version of Internet Explorer / Edge web browsers

- Updated app to use updated Ciirus logos and removed graphic background from dialog boxes

- Can now specify which 25 images to send to HomeAway (along with sort order), as HA only allow 25 images per property.

- Added Airbnb channel manager screen (beta only)

- Live Chat (beta)

- CRM now has a Live Chat history that can be viewed

- Dynamic pricing (Beyond Pricing) - in app only, need to complete the API

- You can now set a custom robots.txt file for your website (Website & Marketing -> Advanced)

- Favorites website visitors can save favorite homes, the information is stored on the CRM for targeted marketing

April 21, 2016 - version 2016 (build 019)

- Added Daily and Weekly clean option to properties (MC Specific Property Details) which can be over-ridden per booking (Bookings Manager -> House Keeping) (RX Only)

- Fixed bug where sometimes an error would occur when saving Channel Partner settings (applied retrospectively to 008)

- Added option to see Check-in / Check-out and whether clean is complete in the bookings list

- Added option to see Check-in / Check-out and whether clean is complete in the bookings scheduler (set in View options)

- New menu, 'Copy Booking' in Bookings Manager, Bookings List and Booking Schedule

- Fixed bug in Supersites when changing between properties from suppliers, where the property name would not re-draw until the cell is clicked on

- Specific Cart Items Report now includes community/Resort

- Nomad: Fixed bug where payment terms (x days before / after arrival) showed as * rather than a number. Applied to 2008 onwards

- Nomad: Admins can now send Ciirus bookings to Nomad from Bookings List

- When saving a quote, the rate set ID used for the quote is now saved against the quote. If the quote is subsequently converted to a booking, this means the 'floor rate' calcs will now be available.

- An MC can now move a Nomad booking in the Bookings Manager, Bookings List or Booking Schedule. The Agent will be notified.

- Fixed bug in Access Control where a user could still access the CRM templates screen when access had not been granted

- Process card payment from owner: Fixed bug where the percentage credit card fee could sometimes be entered as a duplicate of the amount taken, in to the owners account

- Cart Settings: Date / Age Ranges and Min / Max guests now only enabled when item is not mandatory

- Can now configure your own SMTP server rather than using the Ciirus or Mandrill servers. This can be configured from your User Account settings

- Nomad: Can now show bookings in tabs per supplier

- Reviews: Fixed bug where the property name displayed was showing the owner's property name rather than the MC property name

- Copy Booking: You can now choose whether to copy the guest CRM contact record or copy the booking in to the same contact

- Credit Card Processing: Updated Auth.Net to work correctly with non USA payments (included email address and last name in CIM)

- Fixed bug in Chanel Manager -> RedAwning where all descriptions sets would show for each property selected

- Manage Owners: You are now prevented from deleting an owner if the owner still has shared ownership in another property

- Occupied Properties Report: Increased performance of report generation time

- Improved the load speed of the Commissions Report

- Improved data load time of properties on the Booking Scheduler

- Fixed bug with last 4 credit card numbers on email template not showing correctly

- Removed the yellow info bar at the bottom of each page. Replaced with info panel at bottom-left of App

March 17, 2016 - version 2016 (build 012)

- Added Daily and Weekly clean option to properties (MC Specific Property Details) which can be over-ridden per booking (Bookings Manager -> House Keeping) (RX Only)

- Fixed bug where sometimes an error would occur when saving Channel Partner settings (also applied retrospectively to 008)

- Added option to see Check-in / Check-out and whether clean is complete in the bookings list

- Added option to see Check-in / Check-out and whether clean is complete in the bookings scheduler (set in View options)

- New menu, 'Copy Booking' in Bookings Manager, Bookings List and Booking Schedule

- Fixed bug in Supersites when changing between properties from suppliers, where the property name would not re-draw until the cell is clicked on

March 11, 2016 - version 2016 (build 008) forced update

- Booking Settings -> Booking Categories: Fixed bug where an error would occur if an value was entered in to the 'Code' auto filter row

- Bookings Manager: Updated date pickers so dates can be entered manually rather than by selecting date from pop-up calendar

- Bookings Manager: Date pickers when adding a booking now show 6 months at a time in the pop-up calendar

- Bookings Manager: Date pickers when adding a booking no longer show arrival / departure icons over the month view

- Access Control: Changed 'Username' labels to 'Full Name / Franchise Name'

- Total Booking Summary: An owner can now view the Amount to Owner on CS bookings (this has also been applied to the Web Edition)

- Clone Property: Fixed bug when cloning a property or editing properties assigned to agent by supplier (no longer gives an error message)

- Work Orders (non RX): Fixed bug where you could enter a subject longer than 100 characters which would result in the subject not being saved

- Guest Payments: Fixed bug where you could enter a guest payment description longer than 75 characters which would result in the description not saving

- Authorize.NET updated to work for UK / Euro locations

- Cart Extras: Now supports age and date bands

- Bookings List: You can now opt to include the booking category description in the list

- Guest Portal: New module to allow customization of the guest portal with multi-language support

- Cart Extras: Fixed bug where applying items to specific properties would crash if there are over approx 650 properties selected

- Added link to PointCentral from Dashboard

- Owner Accounts: Fixed bug where an error message may appear when both credit and debit are left blank and there was no way to clear the error

- Property Details: Can now specify if property is in a gated community

- User Account details: Can no longer use a semi-colon to separate email address. Must now use a comma

- New module 'Nomad' Bookings

- Nomad: Enrolled users can now opt out of receiving notification emails informing them of new Nomad bookings

- Added link to BeHome247 to dashboard

- Nomad Module: Get matching properties now ignores the property class (so it is important that you correctly match a booking to a property based on the class criteria set by the supplier

- Nomad Module: Now shows the payment terms against each booking as set by the supplier (e.g. you will receive payment days before arrival)

February 16, 2016 - version 2016 (build 005)

- Bookings Manger. Owner's can now edit the category of a booking to any other type of owner booking category (provided it is already an owner booking).

- Property and Web Image Upload: Can now optionally select images to upload with a file chooser rather than using drag-and-drop

- Image preview popup for HTML editors now shows preview images at 200px wide

- Fixed issue on the 'Manage People' screen with the 'Split address correct' check box removing the split or combined address

- Calendar Sync: Quote Settings are now copied down to clones when updated by the master. Clone agents can only modify quote settings that are applicable to the clone property specifically.

- Calendar Sync: When an agent creates a clone property, the quote settings are now copied over from the master

- Calendar Sync: When an agent updates or changes the rateset assigned to an agent of a CS property, the Clone Agents will now receive an email highlighting what has been updated.

- Booking Scheduler: Now exports formatted scheduler to Excel

- Bill Payments (RX): Franchisee's now only see bills that contain splits to properties they have access to

February 04, 2016 - version 2016 (build 004)

- Supersites -> Properties from your suppliers:

You can now export a summary of properties assigned to you (that are approved by you and the supplier)

- Bills (RX): Fixed bug where check continuation sheet did not show the property account reference

- Bills (RX): Check continuation sheet now no longer shows properties with a zero amount

- Bills (RX): Fixed bug where the Bills menu would sometimes not show up for RX users

- Quote Options: Housekeeping charge and pool / spa heating options are now disabled when a CS property is selected

- Supersites: Can now enable or disable all properties to agent or from supplier with a click of a button

February 01, 2016 - version 2016 (build 003)

- Bills (RX): Now no longer need to sync contacts with Quick Books in order to print checks

- Bills (RX): Vendor address now shows on check when vendor contact not synch'd with Quick Books

- Work Orders (non RX): Added Work Order ID to Cost Summary report

- Work Orders (non RX): updated column names for Labor and Materials

- Updated iPhone app to support Vacation Rent Payment card payments

- Upgraded DX controls to 15.2

January 29, 2016 - version 2016 (build 002)

- Various bug fixes

January 06, 2016 - version 2016 (build 001)

- Updated 1042's for 2015 -

- Fixed display issue with the new 'pop-out' window feature where some of the content was behind the top header panel

December 30, 2015 - version 2015 (build 043)

- Tax percentages can now be configured to 3 decimal places

- Booking Schedule: Now has 2 new columns against the property: Star Rating and Property Type

- Bookings Manager: When you edit the Original Booking Reference, if there is a duplicate you will be asked for confirmation if you would like to go ahead

- Total Booking Summary: When a Master MC is viewing a Calendar Sync booking the email address is no longer visible

- Calendar Sync bookings: The master MC can no longer move bookings placed by a clone agent

- Tax reports now show the extra fields as added in previous update (Total Inc Tax, Tax on Extras, Tax Exempt Nights, Tax Exempt Total). As a result the reports are now designed to be printed Landscape

'- All Owner Accounts' report can now select a specific vendor (or all vendors) to report on

- Standard Reports: Property / Booking related reports can now be filtered by Franchisee

- Cart Extras: Rental Exchange users can now set vendor pricing against extras and view a report of margins over a specified time period

December 17, 2015 - version 2015 (build 042)

- Can now pop-out windows from the main Ciirus window to allow multiple screens to be open at the same time

- Can now include a hyphen character in a custom web page name

- Fixed bug where cancelled bookings would not always show in the Bookings Manager even when the 'Show Cancelled Bookings' check box was checked

- Updated Bookings Manager and Bookings List so MC does not see the SS Agent of a Clone agent, but will see the Clone Agent
Mandrill settings now allows you to specify the 'From' email address used to send email notifications

- BeHome 24/7: MCs can now enable a property themselves provided both API Key 1 and API Key 2 are enabled. Ciirus admin only can disable a property upon request

- Custom tokens can now be set for descriptions sets

- For native bookings, you can now configure to recalculate the rates when a booking is moved (dates or property change). Enable this in General Booking Settings. The following items will be updated if applicable: Base rental rate, booking fee, cleaning fee, pool heat rate, extras. RX only

November 19, 2015 - version 2015 (build 039)

- Manage Owners: You can now specify that a property is owned by more than one owner, and set the percentage for each

- 1099s and 1042s: Can now print based on property ownership as set above. The rental income amount will be split based on the percentage ownership configured above

- Owner Accounts Screen: Can now select year up to 3 years in advance (was previously up to 1 year in advance)

- The CRM Manage People screen now allows you to return all contacts with no filter

- For Calendar Sync clone properties, the clone agent can now update date bands in rate sets from the rate set assigned by the MC

- Property Details: Can now specify star ratings with + (e.g. 4+,5+ etc)

- Access Control: You can now prevent a user / franchisee from printing checks

- Access Control: You can now prevent a user / franchisee from sending bill payments to owner accounts

- CC Processing Screen: You can now show the 'Name On Card' (select this from the column chooser)

- Property List: You can now process payments from owner as a batch (if they have a default payment method on file)

- Rental Exchange work orders are now viewable by owners in the Windows app. Each work order must be set as 'Visible to Owner' before the owner can see it.

- MC can now charge a commission on Pool Heating. This can either be a fixed amount or percentage. Set in quote options on a per property basis. Once a booking has been placed, the amount can be edited against the booking in the Total Booking Summary. The initial amount can be configured based on MC or Owner booking

- Mandrill API key setting moved to 'Edit Account' screen

- MCs can now set up a Mandrill account (see above) and notification emails, guest emails and owner notifications will be routed via the Mandrill account (web app also updated to route via Mandrill

- When resetting passwords, they must now adhere to our minimum password security guidelines

- You can now set a default commission to booking categories that will be set when a new booking is placed or when you change a booking category in Bookings Manager

- Rate Sets: You can now specify whether to show nightly / weekly / monthly rates on your website for combined monthly rate sets

Stability Improvements & Bug Fixes 039:

- Fixed bug when adding a CS booking, the CS agent default commission percentage would not be applied to the booking (added to version 031)

- Fixed bug where an AOA booking being edited that overlaps a black-out date was not allowed to be updated.

- Owner Accounts Screen: Can now select year up to 3 years in advance (was previously up to 1 year in advance).

- Fixed bug when Accounting Module not enabled, sending owner payment to owner account

- Booking Scheduler: Improved loading speed especially for accounts with many forward reservations

- CS Bookings: When viewing the TBS and adding extras, the MC will now see list of available extras from the Master Property and when being viewed by the Clone agent they will see list of extras as assigned to the property by the clone user

- CS Booking updates: Now populates the MC amount on CS bookings with the floor rate from the assigned rate set if configured to do so in the supersite settings.

- Fixed bug where MC was able to move a CS booking on the scheduler that was made by a CS agent

- Housekeeping Schedule now loads faster on larger accounts

- Tax reports now include: Total Amount Inc. Tax, Tax on Extras, Tax Exempt number Nights, Tax Exempt Total

- Fixed bug where sending payment to owner account on a CS booking will cause an error when processed by the MC

- Authorize.Net users can now be configured not to require card security code (must be set in the Authorize.Net control panel and also by CiiRUS admin staff)

- Booking Categories: These can now be set independently by MC and CS Agent

- Locking Systems page is now read-only - CiiRUS admin staff configure these

October 06, 2015 - version 2015 (build 031)

1. - Added Lock Box system functions to 'MC Specific Property Details' to support API functions for various lock box providers

2. - Bill Payments & Assets: Allow negative value checks to be printed

3. - Owner Account Global report now shows check number and date paid against detail rows if the item was added via the Invoicing / Billing module

4. - New menu 'Property List' which show many property details in an exportable format. You can filter by date to show only available properties between those dates, plus filtering across all other attributes.

5. - You can now lock a booking (Total Booking Summary -> General). This prevents it from being cancelled or moved within the Bookings Manager, Bookings List and Bookings Scheduler.

6. - Pressing F7 will open up a new 'Owner and Property Details' screen. This shows the details of the currently selected property / owner. If you are in the Bookings List or Bookings Scheduler the screen will show the details for the selected property / property the selected booking is in.

7. - Deleted properties can now be seen in the Property Chooser. Click the icon to the right of the property chooser to refresh the list. The deleted date (Date Off Management) can be seen and edited in the Quick Property Setup. This must be enabled by CiiRUS admin

8. - You can now copy a property. This copies all property details, secure property details, images and descriptions

9. - Booking Schedule - AOA Users can now print report showing all unallocated Reservations

10. - New field 'Booking Restrictions' can be entered in Quick Property Setup. You can enter notes about booking restrictions (e.g. Check with owner before booking over summer).

11. - Booking Scheduler: Can now view the 'Booking Restrictions' as specified above when you click on a property in the scheduler timeline.

12. - You can now automatically schedule automatically added cleans for properties that have been vacant and not had a clean for a specified number of days. Enable this for your account in MC General Settings, where you can also set the number of days since the last clean. Then enable each property and override the number of days in Quick Property Setup.

13. - Quick Property Setup - Secure Track users only: You can now assign a Franchisee to a property

14. - Access Control: You can specify whether your staff / franchisees can view open months in the owner statement

15. - Owner Account Balances report now shows the owner name

16. - Manage Owners: You can now specify that an owner cannot edit property features or location details (read-only)

17. - Guest / Owner confirmations (as sent from Bookings List, Bookings Manager, Total Booking Summary): You can now make ad-hoc edits to the email in preview mode before sending

18. - You can now prepare arrival packets to print for your guests. Filter in Bookings List, then select the Reservations you would like to print, then click 'Arrival Packets'

19. - Along with the above item, you can now print arrival packet envelopes

20. - Fixed bug when adding a CS booking, the CS agent default commission percentage would not be applied to the booking (added to version 031)

21. - Credit Card Settings: Updated the 'Accepted Card Types' screen. For each of your accepted card types, you need to link it to a standard system card type (e.g. You may have entered 'Visa Credit Card' which you would link to the standard type called 'Visa'). This is for better compatibility with external merchant providers

22. - When adding a new credit card, the address is automatically pre-populated from the contact record. This can be edited if necessary

23. - Manage Owners: The Country and State / Province fields are now tied to the standard Countries and States database (this is for compatibility with the item above and other future updates). Please edit each of your owners address information to utilize these new fields.

24. - Guest Credit Card details: When adding a credit card within Ciirus, the billing address defaults to that of the guest. This can be updated if required.

25. - Can now store payment details for guests against their CRM contact (TBS or CRM screen)

26. - Can now take payments against stored guest card details (TBS, Guest Payments)

27. - Can now store card details against owners. For VRP users, can also optionally store USA bank account details (Manage Owners)

28. - Can now take owner payments from their saved payment method (Owner accounts screen)

29. - When a payment is taken from an owner, the amount is credited to the owner account automatically

30. - Updated the Credit Card Processing screen. Simpler layout and now has filters to search for various entries

31. - Credit Card Processing: You can now open the Total Booking Summary from this screen when a card payment is selected that has a Booking ID assigned.

32. - Credit Card Processing. For 'Accounts Module' users that also use VRP for payment processing, you can now process refunds to credit cards from within Ciirus (on rental payments only)

33. - Accounting Functions: New option "Process Owner Booking Fees". This allows you to view all owner bookings that require a charge to the owner account. You can select or ignore each booking, alter the default amount then process in a batch to all the appropriate owner accounts. Enable this and override the default charge in Quick Property Setup.

34. - Property List: Now includes owner account details (last month end, last month end balance, todays balance, minimum account balance, amount due from / to owner for last month and today)

35. - Property List: Can now click to take owner payment (if the owner has a card / account on file)

36. - Bookings List: Can now select to include previous booking departure date

37. - Bookings List: Fixed bug where Export to Excel would result in corrupted file

38. - Bookings List: Now exports booking comments

39. - Added function to allow mobile page redirects

40. - When you create a calendar sync home, the floor rate from the rate set assigned by the MC to the master property will populate in to the floor rate of the rate set assigned to the new clone property

41. - Rate Sets: You can now create daily rates automatically from floor rates, by adding a % or fixed amount to the floor rate.

42. - Rate Sets: When assigning rate sets to properties there is now a button to 'unassign' rate set

43. - Calendar Sync: When adding a booking, the floor rate from the master assigned rate set will be calculated and stored against the property (which is then visible to the Master).

44. - Advanced Website Settings: You can now specify a default master description set to be used for all properties on your site

45. - Increased e-check bank account field to 13 digits

46. - When Accounts Module is enabled, you can now still send amounts to Owner Account from the Total Booking Summary

47. - When Accounts Module is enabled you can now edit open owner accounts (as per when AM is not enabled)

48. - Option to take owner payments now enabled when Accounting Module is not enabled

49. - Disburse Owner Amounts option is now available in Enterprise Edition (was previously Rental Exchange only)

50. - Quick Property Setup now allows up to 500 characters in the following fields: External Property Link, External Contact Link and External Book Now link.

51. - Secure Track: Added extra tracking (Property add / update / delete) and Supersite property settings. Reportable by Ciirus only at present

52. - Fixed bookings list fields (rental ex tax, tax on rental, rental inc tax and total booking amount inc tax) for CS bookings / CS SS bookings. *** Need to check all scenarios looking at financials for CS and non CS bookings before going live

53. - Ciirus can now lock certain aspects of the Website & Marketing menu from Admin.

54. - The option to pay checks to owners has now been enabled in all versions of the app (previously was just Rental Exchange)

55. - Cart items: System no longer allows you to enter a duplicate item code

56. - Website & Marketing -> General -> Search Grid. You can now specify Search Page <head> and Search Page Script Sub Footer

57. - Fixed problem on Remote app, error when entering the reports module

58. - Bookings Manager: When viewing a booking made by a CS agent, the booking comments, contact details and agent details are no longer displayed on the screen

59. - When disbursing owner amounts, can choose to split the rental and pool heat payment in to 2 lines in the owner account

60. - Added option to clear the Master Description Set

61. - Option to copy rates from CS Master to floor rate in a clone property has been made public

62. - Bookings Manager -> More Info tab. Fixed bug where address would sometimes show html tag <br> rather than a line feed

63. - Property Chooser: Now includes the community

64. - Bookings Schedule: Now includes Pool and Bedroom Configuration plus other filter items

65. - Quick Property Setup: Now includes Owner Name

66. - House Keeping Schedule: Now includes Franchisee

67. - Assets: Now includes Owner Name when adding a batch

68. - Booking Schedule: Fixed bug where the day of week would not always show above the timeline

69. - Total Booking Summary: When adding a cart extra, the selection list is now in alphabetical order and the item code display

70. - Cart Extras: You can now delete cart extras even if they have been assigned to a booking (in which case a warning will display if assigned to a future booking). When a cart extra is deleted, the item will still be assigned to any bookings, but you can then use the report (below) to determine which bookings are affected

71. - Specific Cart Extra Report: You can now show deleted cart extras, in order to see which bookings might be affected by the deletion of a cart extra

72. - Various HTML editor bug fixes (paste improvements, text alignment issues)

73. - Dashboard now shows early checking / checkin time and late checkout / checkout time

74. - Performance improvements to Bookings List and Bookings Schedule

75. - Authorize.net API now uses tokens to represent card details. This allows Auth.Net users access to some of the new card processing features such as issuing card payment refunds back to the guest.

76. - Fixed bug in Arrival Packets when too many reservations selected (now forces a limit of 100 reservations at a time)

77. - Owner Account: Now shows the 'Vendor name in owner account' as set in the Contacts screen

78. - Copy Rate: Season name is now also copied

79. - Bookings List: You can now edit / add a rate set to use to calculate floor rates (right-click booking)

80. - Bug fixes in Authorize.Net credit card module

81. - Fixed bug where it is not always possible to edit a cart extra item code

82. - MC can no longer delete a CS Booking

83. - Added an option for 'BeHome247' users for 'Has Automated Locks'

84. - Added LeisureLink to the Channel Manager

85. - Fixed bug where booking category settings would not always save for built-in categories (such as disbursement rules)

86. - Increased BDC Password to 40 characters

87. - Various CS Bug fixes

88. - Misc bug fixes

June 16, 2015 - version 2015 (build 016)

1. Fixed problem where updating a guest name in Bookings Manager didn't refresh the name on the grid

2. Can now enter a plain text community description in the Descriptions screen

3. Bookings List: Can now optionally show default cleaner

4. MC Commissions can now be set independently between MC and CS Agent in Total Booking Summary

5. Booking Manager: The guest confirmation email can now choose to select email address from pop-up of all contacts

6. Bookings List: You can now send a guest confirmation email by right-clicking on a booking in the same way as you can from the Bookings Manager

7. AOA users / Secure Track: Users that are configured for Secure Track and also for AOA, the Admin user can now specify that staff/franchisees have the ability to add a booking in Bookings Manager that overlaps blocked-out dates in AOA properties

8. Supersites: You can now define specific terms and conditions against either a SuperSite agent or individual properties assigned to the agent. If you leave the terms set to 'Default' against the property then it will use the terms you specify against the agent. If that is also set to 'Default' then it will use the terms configured against your property (as set in the Quote Settings)

9. Bookings List: For AOA bookings, the original AOA category booked can be displayed

10. Calendar Sync: In the Total Booking Summary, when sending money to the owner account, you can now choose a specific property to send the payment to.

11. Various CS bugs fixed including recording and reporting of guest payments against Calendar Sync bookings

April 10, 2015 - version 2015 (build 014)

1. Quote Options: Added min time between booking and arrival date

2. Bookings List: Can now show lock box code, alarm code, gate code, wi-fi name and wi-fi password

3. New token on guest confirmation [plaintextpropertydescription]

4. Bookings List: Can now show booking extras under each booking

5. Expected Arrivals Report - Now shows Calendar Sync Reservations

6. Guest confirmation: New token [bookingaoacategory] shows the AOA category the booking was originally placed as. Note, if the booking is subsequently moved to a different property with a different AOA category, this token will still display the originally booked AOA category

7. Guest confirmation: New token [propertyaoacategory] shows the AOA category of the property the booking is currently assigned to (regardless of the AOA category originally assigned to the booking)

8. Guest confirmation: New token [ssagentcompanyname] shows the company name of the SS agent

9. Guest confirmation: new token [ssagentaddress] shows the address of the SS agent

10. Bookings List: The 'Outbound Bookings' filter is now remembered between sessions

11. Bookings List: Fixed bug where cancelled bookings were not found when doing a search

12. Bookings Schedule: Fix bug when moving bookings between properties

13. HTML Editor: Fixed bug where 'Blank' was being added to some href tags when switching between source and design modes

14. Website logon: Can now choose to show/hide the password

15. Increased max web image upload to 150

16. Access Control: You can now switch notifications on/off

17. Access Control: You can now enable or disable all CRM options

18. Access Control: Move Bookings: When moving a booking, staff members can only move bookings to properties in their access control list

19. Access Control: Booking Schedule now only shows properties in the staff members access control list

20. Access Control: Option to enable / disable moving of a booking

21. Access Control: When logged in as a staff member and adding a new property, the new property is now automatically added to that users property access control list if the user does not already have access to all properties

22. Access Control: Can now specify whether a user can add owner bookings

23. Access Control: Can now specify whether a user can change the booking category to/from an owner booking category

24. Access Control: New Billing Module: You can now specify whether a user can mark a check / invoice as paid (and therefore prevent them from charging the owner account)

25. Bookings List: The search option now allows you to specify which field to search on (guest name, imported booking reference, agent booking reference)

March 1, 2015 - version 2015 (build 09)

1. Rental Exchange

2. Tax Reports: Can now specify 2 new options for when to report tax on reservations: "Tax Report Date (if set) else Arrival Date" and "Tax Report Date (if set) else Departure Date". These options will use the Tax Report Date you specify in Bookings List, but if you leave blank then it will use either the arrival or departure date.

3. VRP Live Payment from Total Booking Summary: Fixed a problem where some international (non US / Canadian) payments would decline due to not having a State specified.

4. Websites now show AOA properties as available when they have bookings in. You can hide an AOA property by adding blackout dates for the date range you wish to block.

5. AOA: You can now add overlapping bookings in AOA properties in Bookings Manager

6. Property chooser and property selector now shows CS properties in red.

7. Property chooser now has columns to show CS and AOA properties

8. New Work Order module (RX only) - initial release (view documentation and video)

9. AOA / Calendar Sync: You can now move bookings between native and Calendar Sync clone properties

10. Bookings List: New floor rate column. This shows the nightly floor rate (without tax and options) of the booking based on the nightly floor rate stored against the rate set assigned to the property

11. Bookings List: Can now choose to show booking arrival and departure info

12. Booking Scheduler: Can now specify 'Date From' to show bookings on the scheduler. Defaults to bookings departing after 1 month ago from current date

13. HTML EDITOR UPDATES

14. Added replace option in the Search / Find dialog

15. Search for text within HTML source edit mode

16. When switching from WYSIWYG mode to HTML source mode and vice versa, the selected content remains highlighted between screens, and cursor position is maintained

17. Various bug fixes including: Image / table resizing, bullet and number list bugs resolved, double-clicking a word did not highlight entire word, can now paste plain text correctly

18. Calendar Sync: Fixed various bugs relating to visibility and access of CS bookings by the property manager

19. Re-wrote Bookings List back-end code to improve performance and reduce time-outs especially for CS users

20. Bookings List: No longer shows calendar sync bookings as duplicates

21. Various bug fixes

22. Agent login HTML field added

23. CRM functions added (view CRM Documentation)

24. New iCal formats added (Other, Google, AirBnB)

25. Booking.Com features added

26. Add Booking function now expects first and last name, and creates new guest contact details record

27. TBS: Added guest checked-in and checked-out flags and date/time

28. TBS: Added option to set whether to allow guest to see the arrival details in the Guest Portal

29. Bookings List: Can now check to allow guest access to arrival info in the Guest Portal

30. New tokens (CRM and Guest Confirmation Templates): [guestportalurl], [guestportalusername] and [guestportalpassword]

31. CRM: Can now email guest with portal details

32. CRM: In Person Manager can now double-click a quote or booking in the history list to open the Total Booking / Quote summary

33. Bookings List: Further improvements in loading speed

34. Logon: Periodically your web browser will be opened on a web page determined by Ciirus to be of possible interest (max once every 24 hours)

35. New online documentation live and still in progress

October 13, 2014 - version 2014 (build 041)

1. Fixed bug where having wireless printers referenced by IP address caused an error when printing reports.

2. Added 'Combined' view in the Dashboard

3. Calendar Sync (RE)

4. AOA (Allocated on Arrival) Module (RE)

5. Initial beta version of some calendar sync functions (not yet fully operational) within Rental Exchange

6. Option to prevent email notifications being sent when a booking is added in Property Manager or edited in Total Booking Summary. Management Company -> General Settings -> Bookings

7. You can now choose to send owners an email notification when a new booking is added to their property. Management Company -> General Settings -> Bookings

8. Secure Track: Now logs changes to the following fields on bookings: Supersite agent, Tentative, Agent rental rate (all server side only)

9. SEO: Can now configure custom 301 redirects from old pages to a new valid page, which is important for search engines

10. Credit Card Processing: Now shows the Billing Country in the list, plus a total at the bottom. This means you can now filter by e.g. all International card payments between certain dates and see a total of all the payments that were approved

11. Franchise module added to Secure track (Rental Exchange). Can now specify a list of properties a secure track user has access to (RE)

12. iCal added as part of Connectivity Package

13. Quotes: When quoting within the app, it now returns properties with >= the number of bedrooms specified

14. Rearranged menu options to make them more logical

15. Quotes: New 'View Details' button on quotes screen to launch web browser on property details screen

16. Changed email from address to 'customerservices@ciirus.com' rather than 'donotreply@ciirus.com' to help prevent emails from going in to Spam folders

17. Bookings List: Added 2 new columns to show if early check-in or late check-out

18. Bookings List: Added guest email address and Booking agent (non Supersite)

19. Guest Confirmation and Quote Template now have a new token [termsurl] that goes to terms.aspx to show the T&Cs for the property

20. Take Live Payment Now option in the Total Booking Summary now uses a standard list of Country and State codes to improve the card approval rate

21. Card payment screen (guest and owner) now supports VRP tokens

22. Card processing within Ciirus now supports VRP tokens

23. Access Control: You can now specify whether a user has the ability to send work orders to the owner account

24. Contacts: The screen now defaults to a new list view (you can still switch to the original card view if you prefer)

25. Channel Manager: Added tab for My Booking Pal control panel

26. New Bill Payments screen

27. Owner amount disbursement module (RE)

28. Added FlipKey as a channel partner

29. Added Roomorama as a channel partner

30. Export Guest Contact details: Can now include quotes as well as reservations

31. Added property star rating (under property details). In an upcoming version, website users will be able to filter by this option
SEO package: Blogs now have user friendly URLs

32. Bookings Manager: When logged in as an owner, the owner can no longer see the booking category when not an owner booking

33. Moved 'Inventories' to the 'Owners and Homes' main menu

34. SEO Package: Website visitors can now leave comments against a blog article. These can be moderated / deleted within the Windows app

35. Allow domain names to include special characters such as Russian and other languages

36. Work Orders: Can now specify (in MC General Settings) that property access details be displayed on the Work Order printout / email

37. Manage Owners: When removing an owner from your management, you must now delete any active properties for that owner first

38. Manage Owners: Now shows first and last names in 2 columns

39. Bookings List. New 'Payments' option. This allows you to quickly enter a payment against reservations when a single payment is received from an agent for multiple reservations. (RE)

40. Manage Owners: Reformatted the page to make more user friendly

41. SEO Page redirects: Pick list to the right to quickly select a page to redirect to (RE)

42. Online Booker: Added place holders and templates for new responsive Online booker option

43. Description sets: Can now specify a Google Maps template

44. Description sets: Can now specify an overlay template for property image on search grid

45. Occupancy Reports: New report 'Property Occupancy by Month-Year-Day' showing number of days occupied for each day of the year

46. Bookings List: Now has owner name and guest telephone number available in the column chooser

47. Notifications: Fix bug where some recent notifications would not show when there are a large number of unread notifications

48. Web Image Library: Increase the image resize to a 800px width (was 400) when an image is greater than this width

49. Total Booking Summary: If viewing a canceled booking, now flashes a Canceled label and shows as canceled in the title bar

50. Total Booking Summary: Now shows the Property Name in the General tab

51. Notifications: If viewing a booking notification (such as new, updated or canceled booking) you can now double-click the notification or click the 'View booking' link to open the booking in the Total Booking Summary

52. Quote Settings -> Terms and Conditions. You can now enter a plain text version of the T&C's as well as Cancellation Policy and Local Charges. These are primarily for channel partners such as HomeAway who expect these in plain text.

53. Channel Manager -> HomeAway. You can now specify the Terms to apply to each property

54. Total Booking Summary: Now shows Booking Category and Booking Comments

55. Quotes in Windows app now show, and can be filtered by AOA category and star rating (RE)

56. Custom occupancy report definitions can now be saved

57. Mobile Sites: Can now show the image list and insert images in to content regions

58. Mobile Sites: Can now define menu links to external sites

59. Mobile Sites: Can now define a footer below each content region with title and link (internal or external)

60. Rates: You can now define future rate bands, and copy them to all other rate sets (optionally with rates, min nights, arrival / departure days)

61. All data now uses SSL (previously only sensitive data would be transmitted via SSL)

62. Booking Payments Summary can now optionally show the owner amount

63. Occupancy Report can now be set to use either the base rate (ex tax) or the total price including tax. The base rate as before shows the base rental rate minus any discounts, but does not show tax, extras, pool heating, cleaning or booking fees.

64. Franchise Module: Can now specify which reports to allow access to, allow or prevent access to Total Booking Summary and allow or prevent access to financial details in the Bookings List. (RE)

March 12, 2014 - version 2014 (build 018)

1. Dashboard: Added new timeline view to Dashboard (shows bookings, cleans and work orders)

2. Dashboard: Reinstated print facility from the various tabs

3. Dashboard: You can now specify whether to show the dashboard after logging on, and which dashboard page to initially display. Go to the Account screen to adjust this at any time.

4. Fixed a problem with some windows appearing behind others and therefore appearing to freeze the software

5. When selecting a booking on the Booking Scheduler, now only quotes if the quote window is already open. If you drag a range on the timeline (without selecting an existing booking) then the quote window will pop up and quote for that range

6. Booking Schedule in AOA mode: Owner bookings were showing as having a red flag indicating they were OK to move. This has now been fixed

March 10, 2014 - version 2014 (build 015)

1. Recurring charges: Can now set to process automatically on the selected day.

2. Recurring charges: If using the auto-process above, can now specify which months of the year you want the charge to process

3. Recurring Charges: If using the auto-process option, can view log of charges applied

4. Websites: Fixed bug where an extra set as percentage of rental rate was not working properly

5. Can now sync calendars with HomeAway. Website & Marketing -> 3rd Party Websites -> HomeAway

6. Main Screen has new icon to right of property selector so you can view the selected property's details page

7. Property Details page now has 'Preview' icon so you can view the selected description set for that property online

8. Guest / Owner Booking Confirmation Template: Can now include Supplier Booking Ref and Original Booking Ref [supplierbookingref] and [originalbookingref]

9. When adding a new booking, if in AOA mode then you can set the AOA category of the booking

10. Booking Categories: Can now specify whether a booking can be Cut and Pasted on the Booking Scheduler based on the booking category

Bookings Schedule Updates:

1. Flag icon will appear on a booking if it is an AOA booking, and can therefore be moved

2. Hover mouse over booking to see more details in a pop-up window

3. New 'View Property' button will launch web browser to view the currently selected property online

4. Date Navigator window which used to be fixed to the right edge of the screen can now be dragged to any edge or dropped outside of the main Ciirus window, such as a second monitor

5. Property list to left side of screen has been enhanced to show additional fields. You can now sort and filter against these new fields

6. You can now 'Cut and Paste' AOA bookings from the scheduler screen in to a pop-up box. You can select multiple bookings by holding the 'CTRL' key when you select. You can then paste the bookings individually back in to other properties. The 'Cut' list can be moved to dock within the main Scheduler window or on to a second monitor and optionally combined with the Date Navigator window

7. The 'View' button at the bottom of the screen has been removed. The functions that used to be in the 'View' menu have been moved into the 'Color / View Settings' and 'Tools' tabs.

8. The Ciirus icon at top-left of all screens now hides both the top, bottom and left screen areas to give more data viewing space. This is particularly useful on the Bookings Scheduler

Quotes in App: Now shows price calculation breakdown against each quote
Booking Scheduler - can now drag a range of dates and quote / book those dates (Via the pop-up quote window)
Quote (Get Quote in Windows edition): Can select a specific property from drop-down list rather than the currently selected property in the
property chooser
Pop-up Quote window can now be made to stay on top of the main Ciirus window
Cart Extras: Now allows up to 10 characters for the Item Code
Further listing integration with HomeAway API (create / update listings, images, rates, reservations)
Descriptions Sets: New Headline text box, which is used when sending property listings to HomeAway (and in future other external companies we work with)
HomeAway Sync: Can now specify a rate set and description set to send to HomeAway
Rate Sets: Can now specify a currency (this is for sending to HomeAway or other external companies)
Rental Guardian: Ciirus admin can now set up ADP and TI policies on your behalf. Reports in admin to send to RG weekly. TI must be added by MC to booking
Map Info box HTML added to Web Advanced settings -> HTML. Do define the style of the map pop-up box
Can now take Owner Account payments from owners by credit card. Link visible on owner account screen and can be inserted in to owner account statement that is emailed.
Supersite Agents: Can now specify a default booking category to use for each SS agent
Supersite Agents: Can now specify a default MC commission percentage to use per SS agent. This overrides the MC default commission, but the property specific commission, if set, overrides the SS agent commission
Prevent a cancelled booking from being made tentative (or from tentative to confirmed)
Websites: Can now order results by price
Websites: Can now filter results by properties within a specified price range
New Notifications window that shows important events such as new bookings, work orders, information from admin
Fixed display of cancelled tentative bookings in Bookings Manager so the strike-through line is visible
On the logon page, you can now choose to try out the beta of our new product 'Rental Exchange'. Note, some of the features above are only available in the Rental Exchange product.

January 23, 2014 - version 2014 (build 004)

1. Can now print checks to owners from Owner Account (Account Module only).

2. Credit Card Payments screen now has column available for 'Auth Code'

3. Cleaning Report: Custom report now has 'Community' as an available field

4. Cleaning Schedule: Now has 'Community' in field chooser

5. Booking Schedule: Bookings can no longer accidentally be moved to different dates when dragging between properties

6. Booking Schedule: Can now right-click a booking and select 'Move' option to move to a different property

7. Booking Schedule: Number of bedrooms is now displayed alongside the property name

January 21, 2014 - version 2014 (build 002)

1. Tax Reports: manual amount ($) override when creating 1099's and 1042's

Management Company > Tax reports > 1099s and 1042s

Video tutorial: http://www.ciirus.com/web/DocumentationAndVideos/1099sAnd1042s.aspx

2. Fixed bug where there was a missing DLL when customizing a report

January 4, 2014 - version 2014 (build 001)

1. Tax Reports: Can now produce 1099's and 1042's for USA property managers

2. Bookings List: Can now save and load custom filters (useful for saving invoice templates for tour operators)

3. No longer show booking requirements on Booking Scheduler

4. Can now create Allocated On Arrival Categories, Properties and Bookings

5. Various bug fixes and improvements

6. When a supersite agent booking is placed, the notification email sent to the MC no longer contains agent rate details

7. Added [bedrooms] tag in the quote templates

8. New token [supplierbookingref] in guest / owner templates

September 30, 2013 - version 2013 (build 037)

1. Fixed bug where taking a live payment within the Total Booking Summay did not show the guest payment in the list

2. Updated the 'Auto' option for fetching the Geo co-ordinates for the property location based on address

3. Added Referrer and Supersite Agent as optional fields in 'Bookings Manager' and 'Tax Reports'

September 18, 2013 - version 2013 (build 036)

1. Standard Reports: Payments Due / Over Due report now shows tentitive and outbound bookings (rental exchange only), and an option to show any other future booking where zero payment has been received (even if balance due date has not passed)

2. Supersites: You can now specify whether properties for supersite agents can be booked online by the Supersite agent. This can be set to the MC "allow online booking" setting, or to True or False. Supersite Agents -> Configure properties for your agents -> Allow online booking

3. The quote icon in the quick launch bar now opens the quote screen in a new window

4. Total Booking Summary: You can now send a guest confirmation from the Guest Payment screen

5. Removed Quick Quote from the left navigation bar

September 1, 2013 - version 2013 (build 032)

1. Tentative Bookings

Bookings can now be marked as Tentative. They will appear in red in the Bookings Manager and in the Bookings List. Tentative bookings can be set from two locations:
Bookings Manager > Create New Booking > Tentative Booking

Quotes Manager > View Saved Quotes > View Quote > General > Make Tentative


Tentative Bookings can be set to expire manually or auto expire within a specified number of days. Tentative bookings can also be converted to a confirmed booking:
Bookings Manager > Total Bookings Summary > General


Enter the booking expiry date when you add the booking. Each night the system will expire any bookings that exceed the specified date. Expired tentative bookings will be converted to a quote so they can still be viewed in Quotes Manager.

You can confirm a tentative booking, or immediately expire a tentative booking:
Bookings Manager > Total Bookings Summary > General


Tentative bookings appear on a red background within Bookings Manager and Bookings List.

Convert a regular booking to a tentative booking from screen:
Bookings Manager > Total Bookings Summary > General


2. Online Housekeeping / Maintenance Service Portal

The Service Portal is your company's connection between Maintenance Staff, Housekeepers, and Vendors.

Track and assign tasks to service staff instantaneously. Manage work orders and cleans in CiiRUS as usual, but provide a log on to each service staff member. Staff members can log on and view jobs by date range, view access codes, get directions, leave comments, track mileage , log time spent, and update the status of jobs all from this one mobile friendly tool .

The Property Manager has permissions control over almost all information visible to staff.

Are the logistics of managing your company making it difficult to manage homes?

The Service Portal can help streamline operations . The Service Portal requires the JobTracker feature enabled.
Below are two demo logins to view and try:


Service url: http://servicelogon.com/account/login.aspx
To login as a Housekeeper:
Username: 107
Password: ciirus


To login as a Maintenance :
Username: 1450
Password: ciirus



3. Webpage Editor Updated

The webpage editor has been updated. The updated documentation is available from:
http://help.ciirus.com/s/2494/m/5705/l/53900-web-page-editor-feature-overview
New Features Include:

* HTML Editors: Table borders are now visible as dotted guides, in design mode when width set to 0


* HTML Editors: Paste from Word option


* HTML Editors: Better HTML code generation with less messy code


* HTML Editors: In-line spell checker


* HTML Editors: Now 3 views - WYSIWYG, HTML Source and Preview modes


* HTML Editors: Now includes HTML tag navigator in the footer of the Design View


* HTML Editors: Better handling of bullets and numbered lists


* HTML Editors: Better table handling


* HTML Editors: Numerous other enhancements and better HTML code editing and updating



4. Discount Codes

Multiple Discount codes can be made available from the website. When active the guest can enter the discount code online and the discount will be displayed and applied when the booking is made.
The discount codes are set from screen:
Quotes Manager > Cart Settings > Discount Code [check box)
Enter the Discount Code on the code box, For Example enter: 10PCD

Note: Discount will be applied to the rental only
Discount can be applied:

* As a fixed one off amount against the total rental amount

* A fixed daily amount for example $10 for each day booked

* Or as a percentage of the total rental amount
For Example to apply a 10% discount to the total rental amount for discount code 10PCD , tick the percentage box and enter -10.00 (note the negative before the amount)




5. Automated Balance Due Reminder Emails

Set the default number of weeks prior to arrival that the balance payment is due from Screen:
Bookings Manager > Total Booking Summary > Payments Received

Select to enable/disable automatic email reminders.

Configure the email template within "Newsletters / Templates" option. Optionally send copy of email to user defined email address.

Specify how often to send reminder email to guest after balance due date, when there is still an amount outstanding.




6. Enhanced client search tools for websites

Simplify your customer's search for a home with Enhanced client search tools for websites. Property features and date ranges give customers a quick way to filter through your inventory to the home they wish to book.

This search filter adapts to the screen size of the client browser so you can easily select desired features. The tool changes position when the browser size is expanded or reduced. The results in the search will only show homes with the features selected by your guests.
View Demo Search Tool:
http://www.floriwood.com/search.aspx
Contact us if you would like the search tool feature added to your website.




7. Jump to Property (website)

Today's technologically makes your website like the front window of a store. The clearer the glass, the better exposure your customers will have to your product in the Window. CiiRUS Custom websites have taken the automatic filtering and easy to read functionality of the CiiRUS windows application and adapted it to the web.

The Jump to Property feature on custom websites offers ease of access to customers who know what they want, or make directing a client to a listing over the phone easier and more accessible from any page of your website.




8. Mobile website (Supersite)

Want to expand your exposure on the web? A CiiRUS Mobile SuperSite may be your answer.

Mobile browsing accounts for nearly 20% of web traffic. When a Customer goes to your current website, a Mobile SuperSite can automatically detect if a user is on a mobile device and provides them a smartphone friendly way to find the perfect home to book. Mobile SuperSites provide all the search and booking functionality of a SuperSite with a format which is fast, easy, and elegant.
If you are using a Ciirus based website, Ciirus can configure a Supersite to be a mobile website.



For information, contact Ciirus: info@ciirus.com



Below is a link to an example mobile website. Using your smartphone, go to:

http://www.floriwood.com
Note: If the browser detects you are using a phone browser it will automatically redirect to the mobile Supersite:
http://m.floriwood.com


9. Introducing the Rental Exchange

The Rental Exchange is an experimental feature that will allow advanced routing of registered homes between accounts (expected release 2014). The module will also contain a full CRM.

Please note: You are welcome to use the current features for native bookings, however the Rental Exchange is in development. Features will be updated or removed at any time and features may contain bugs. We have added a Popup screen when accessing Rental Exchange features.



10. New Reports



Supersites, Reports

You can now double-click a booking to view the Total Booking Summary for that booking. This applies to 'Bookings made by your agents' and 'Bookings you have made for your suppliers'

------------------------------------------------------------------------------------------------------------------

Supersites > Reports > Bookings you have made for your suppliers

The 'View arrival information' has now been removed, and you can view the arrival details within the Total Booking Summary provided you have been granted access by the supplier.

------------------------------------------------------------------------------------------------------------------

Standard Reports

The report filter backgrounds are now colored, so it is easier to see which 'View' button relates to each report.

------------------------------------------------------------------------------------------------------------------

Standard Report: Added new Occupancy Report

This shows for each property how many days bookings and pro-rata rental rate has been made within the specified date range. Also shows % occupancy for each property

------------------------------------------------------------------------------------------------------------------


Standard Reports: Added a new Agent Booking Summary report

This shows number of bookings, rental rate and days booked by each Supersite agent within the specified date range

------------------------------------------------------------------------------------------------------------------


Standard Reports: New Departures and Cleaning Report

Variation on the existing report showing Depart Date, Guest Name, Property, Cleaner and Next Arrival Date. You can report on all cleaners or a specified cleaner only


11. Check (Cheque) or Credit card for online booker

The online booking module can now display a choice for the guest to pay by check (cheque) or pay by credit card.
This feature can be set from screen:
Website and Marketing > General Settings > General > Online Booker
If the pay by check feature is enabled, then a URL can be entered to direct the guest to the instructions webpage for check payments.
An additional optional charge (percentage) can be added to the base rental if the guest pays by card.
To view the initial method of payment from the guest:
Total Booking Summary > General



12. Arrival Information Screen

Arrival information for a booking can be displayed and copied from Screen:
Total Booking Summary > General



13. Various New Updates and Features


Balance Due Date is now editable on a per-booking basis. By default a new booking balance due date will be calculated based on the 'Number of weeks balance due' option in Quote Settings. You can override this in the new 'Balance Due' panel in:

Total Booking Summary -> Payments from Guest

------------------------------------------------------------------------------------------------------------------

14. Bookings List

Now shows balance due date when 'Show Financials' option is checked
------------------------------------------------------------------------------------------------------------------

15. Calendar Sync
Automatic calendar sync to www.orlandovillas.com
------------------------------------------------------------------------------------------------------------------

16. Cart Settings

Can now specify an item cost as a percentage of the base rental rate (this also applies to the new discounts option)
------------------------------------------------------------------------------------------------------------------

17. Saved Quotes

You can now create a link from a quote to the online payment page, after optionally editing the financials and extras. When a guest clicks the link and submits payment details against the quote, the system checks there is still availability and converts the quote to a live booking.
------------------------------------------------------------------------------------------------------------------

18. View Saved Quotes

Supersite Agents can now view outbound quotes (i.e. quotes generated on their site, where the property is managed by another supplier). These quotes can be viewed, email sent to guest, and converted to a booking by the supersite agent.
------------------------------------------------------------------------------------------------------------------

19. Booking Schedule

Can now right-click a booking to see popup menu. For native and agent bookings choose to open in Bookings Manager or Total Booking Summary. If an Outbound booking, can view Total Booking summary only.
------------------------------------------------------------------------------------------------------------------

20. Interface

Reorganised and improved appearance of 'Website & Marketing -> General Settings -> Online Booker'
------------------------------------------------------------------------------------------------------------------

21. Added various new icons on tabs and buttons
------------------------------------------------------------------------------------------------------------------

22. Total Booking Summary

Now available to Supersite Agents to view Outbound Bookings. Read-only other than can add guest payments, and can add and edit extras supplied by the property managers. When editing extras, can adjust the quantity but not the item price
------------------------------------------------------------------------------------------------------------------

23. Total Booking Summary

This has a new tab 'Arrival Details' which shows property address, access codes, Management Company details and other information. This is visible to the MC and agents (provided the agent has permission)
------------------------------------------------------------------------------------------------------------------

24. Total Booking Summary

New tab 'General' which shows basic booking information and images
------------------------------------------------------------------------------------------------------------------

25. Supersite Agents

In the list of agents you can now specify that a particular agent can view arrival details for any booking even if you have not specifically flagged the booking Bookings List for the agent to view the arrival details
------------------------------------------------------------------------------------------------------------------

26. Work Orders

The 'Allocated To' drop-down now allows you to filter by name, whether a staff member or a vendor. This makes it easier to quickly find a specific contact in a long list

------------------------------------------------------------------------------------------------------------------


27. Cleans

Late Checkout clean type added


------------------------------------------------------------------------------------------------------------------

28. Owner Account

When you initially go to the owner account screen, the month now defaults to the current month if you are an MC (rather than previous month).
------------------------------------------------------------------------------------------------------------------

The initial payment method chosen by the guest

The initial payment method chosen by the guest on the online Booker is now stored against each booking. You can view and edit this on the booking in the

Total Booking Summary > General (tab)

This setting is reflected in the 'Due / Overdue Payments' report.
-----

July 8, 2013 - version 2013 (build 024)

1. Booking Schedule: Can now export Booking Schedule to Excel spreadsheet (Management Company -> Bookings Schedule -> View Options -> Export)

2. Extra property features added (Dishwasher, Dock, Elevator, Motor Cycle, Ocaen Front, Ocean Side View, Wheelchair Accessible)

3. Image Gallery: Can now specify thumbnails to show vertically to the side of the main image

4. Image Gallery: Can now specify the background color behind the main image

5. Image Gallery: Now cycles through images automatically. Hover mouse over image to pause, move mouse off image to continue playing.

6. Ciirus Windows application now opens in the last position you had it open on screen

July 5, 2013 - version 2013 (build 023)

1. Tax processing date can now be set against each booking.
You can specify which tax month a booking falls in the tax report, rather than just calculating based on arrival or departure date.

view updated tax feature documentation

June 26, 2013 - version 2013 (build 021)

1. Smooth grid scrolling

2. Custom Web Pages: SEO subscribers can now reference custom pages using SEO friendly names in the following format: www.floriood.com/content/pagename.aspx.

Websites: Property details can now be viewed in the format www.domain.com/ref12345.aspx

June 4, 2013 - version 2013 (build 018)

1. You can now specify a bedroom count as zero (in the case of a studio etc). This is not yet live on the websites

2. Upgraded to .NET Framework version 4 (note: new download file 57 Mb)

3. Supersites -> Configure propreties for your agents. Now sorts the Rate set alphabetically and added search filter to top of column

May 24, 2013 - version 2013 (build 016)

1. When running a quote within Property Manager, you can now quote even if the requested dates are less than the stated minimum nights stay for that property. A red note will be added to the top of the quote in this case, to make you aware.

2. Renamed CRS button to Reservation Exchange

3. Fixed bug when clicking in the Arrival or Departure Date field, error message appeared

May 20, 2013 - version 2013 (build 015)

1. Lock Box: If you choose to allow guest to enter a lock box code, the guest may leave this blank. If they leave blank then the lock box code will be generated from the last digits of the phone number. If there are not enough digits in the phone number then the lock box code will be generated randomly

2. Pool heat amount in quote now shows to 2 decimal places

3. Search grid HTML now has 2 new tokens to show average nightly rate (ex tax) and average nightly rate (inc tax). The tokens are [avenightlyrateex] and [avenightylrateinc]

4. Date Bands: Can now specify a season name against each date band (e.g. Low, Mid, High, Peak). These will ultimatey show against the rate list on the website.

5. Beta: You can now export reservations to iCal format (Booking Scheduler, View Options)

6. Moved CRS icon to the Management Company menu and renamed to 'Reservation Services'

7. Online Booker: Can now specify custom text to appear on the 'Requirements' page

8. Online Booker: Can specify the text to appear for 'Pay by check' and 'Pay by Card' if enabled

9. Booking Manager: You can now delete a cancelled booking (right-click on cancelled booking, then click 'Delete')

April 17, 2013 - version 2013 (build 009)

1. Long Term Rentals, Grid row HTML - can now specify HTML to display in the search results grid, if the property is a long term rental

2. Added new token [monthlyrent] in grid row HTML

3. Property Name / Location: Added 'Long Term' rental option with associated monthly rental rate

4. Plain text descriptions: Fixed bug where line breaks were not saved

5. Booking Scheduler: Fix bug where certain displays would not show bookings when the visible property count was set to high

6. Owner account: Fixed bug where item description would cause an error if > 150 characters

7. Bookings List: Added new columns "Nights" for number of booked nights and "Address1" for property address line 1

8. New URL parameter for search.aspx?term=x where x is 0 = all properties, 1 = long term only, 2 = short term only

April 8, 2013 - version 2013 (build 006)

1. Bookings List: Can now choose whether the date filter is based on rental dates or on the date the reservation was added

2. Bookings List: Can now choose to show financial information (MC Commission and booking figures) against the bookings. Totals are displayed in the footer so you can see turnover or commission based on date ranges and other filters

3. Bookings List: Added an "Export to Excel" option

4. Cleaning Schedule: Can now click "Go to booking" to view the booking the clean is scheduled against

5. Bookings List: Can now opt to view cancelled bookings

6. Default MC Commission can now be set to 2 decimal places

7. Renamed 'Recurring Payments' to 'Recurring Charges'

8. Standard Reports: Added Property Name and Address to Booking Report 2

9. Cleans -> Owner account. You can now see the booking category of the booking the clean belongs to, as well as the number of nights of rental.

10. Expected Arrivals Report: Added a new flag to show if previous booking had pool heating

11. Departures Report: End of stay clean, cleaning company now displayed

12. Free Properties Report: Now shows how long each property has been empty for

13. Wi-Fi network name and code can now be stored in 'MC Specific Property Details'. The guest

14. confirmation template can now hold 2 new variables [wifiname] and [wificode]

15. Departures Report: Can now report back from 18 months

16. Invoicing, Check Printing: Can now print to alternate check format as well as QuickBooks checks

17. Agent bookings Property Information Email: Supersite agents are now automatically emailed 28 days and 7 days prior to arrival of a booking they have placed. This email contains property details including address, lock box code and other arrival info. MC can switch this feature off against specific agents in the Supersite Agents list.

18. Can now specify that a property is Furnished or Unfurnished

19. Can now specify that a property is commercial

20. Credit Card Processing: Updates to allow Vacation Rent Payment to function

21. Guest Confirmation Template: Can now include the following fields: [totalinctax] [totalextax] [totaltax]

22. Dashboard: Added 'Schedule Training' and 'Market Place' tabs

23. Quote template: Added 3 new tokens [currencyname], [currencycode] and [currencysymbol]

24. Image Gallery: New tab in advanced settings to customize look and feel of 'non flash' gallery [gallerynonflash]

25. Invoicing: Increased 'Invoice Number' max length to 55 characters

26. Owner accounts: Fixed problem when viewing a month where there are no transactions, occasionally showing an incorrect opening balance.

27. Manage Owners: Added a new 'General Notes' field where you can enter free-format notes about the owner.

28. Reports: Can now export guest contact details to CSV or XLS using various filters, in iContact format

29. Process Cleans -> Owner Account: Shows total value of cleans

30. Credit Card Payment screen: Can now generate card payment screen link

31. Property Descriptions: Can now enter a plain text version of each description set (for XML / automated data feeds)

32. Supersite agent bookings report - now includes Property Address (use column chooser to make visible)

33. Expected Arrivals Report: This now shows the booking agent and lists any cart extras added to the booking

October 29, 2012 - version 2012 (build 048)

Rate Sets

1. Rate sets: Can now accept online reservations based on specified arrival and departure days of the week.

2. Rate sets: Can now specify that quote is based only on the arrival date band, even if the duration crosses multiple bands

3. Rate sets: Monthly rate sets can now be specified to use a combination of daily, weekly and monthly rates

4. Rate sets: Can now specify how many days to assume in a month when using monthly rates

Bookings Manager:

1. Bookings Manager: When adding a booking, the drop-down calendar for picking the dates now shows existing reservations

2. Bookings Manager: When adding a booking, the drop-down calendar for picking the dates shows allowed arrival / departure days in green

3. Added "Departure clean date" to the Departures Report and also an export option

4. Total Booking Summary: Can now edit the tax rate against the booking

Process Cleans (Online Web Edition)

1. Process Cleans: Updated the code so if the 'Process' button is pressed, then pressed again while the system is still processing, duplicate cleans will no longer be charged to the owner account

September 11, 2012 - version 2012 (build 041)

1. Fixed bug where an expired version of Ciirus would not hide the "Saving Data" popup window

2. Description Sets: Added a flag to allow showing of contact form at bottom of the property description page

3. Descriptions: New tags [key], [legend] and [imagelist00] added

4. Standard Reports: Monthly Owner Account Balances report added
Cancellation date is now stored when a booking is cancelled
Now notified when a booking is moved (to a new property and/or new dates)

5. Dashboard: Mid-stay cleans are now displayed in green

6. Agents can now set their Booking Reference against bookings made for their suppliers (Supersites ->Reports)

7. MCs can now see Supersite Agent booking refs in Bookings Manager

8. New Standard Report: Properties, showing MC / Owner rates (retail and floor rates). Based on default commission %

August 03, 2012 - version 2012 (build 023)

1. Property Features: Added number of King, Queen, Full, Twin beds and sofa bed and club house, and several others

2. Website and Marketing: Added Static Top Banner with option to display on all pages or only the home page

3. Credit Card Processing: New option to disable the CC facility

4. Credit Card Processing: Option to prevent submission of card details, allowing the user to print the page only (e.g. then they can fax the form to you)

5. Credit Card Processing: Can now enter text to appear above and below the credit card entry form

6. Added several new available [tokens] for use in property descriptions

7. Bookings List: Fixed error where the last date selected in filter would not return bookings arriving that day certain time zones

8. Occupancy report no longer shows booked dates for black-out days

9. Booking rate calculations: Improved the rounding method used when calculating tax (changed from bankers / even rounding, to round away from zero)

10. Removed the Video menu option from Property Web Details

11. Departure / Clean standard report

June 21, 2012 - version 2012 (build 028)

1. When moving a booking to a different property, the cleaner for any cleans on the booking will change to the default cleaner for the new property.

2. Work orders: Owner Account Category field drop-down selector now sorted alphabetically

3. Can now specify 4 decimal places for the base rental rate in order to calculate an exact total including tax.
Contact Ciirus to have your user account enabled for this (no cost)

4. Rate Sets - Floor rate column now always visible (used for setting floor rates for agents)

June 11, 2012 - version 2012 (build 027)

1. Work Orders: Now shows 'Date Added' field

2. Quote Template: new token [cclink] which will show the link to the credit card payment page for that property

3. Payment gateway: Now supports Rent Payment gateway

4. Pool Heating: In property features you can now specify whether the private pool (if applicable) is heatable. If not flagged as heatable then the Online booker does not offer the option of pool heating

5. Booking Schedule: Now shows past bookings (up to 12 months previous)

June 6, 2012 - version 2012 (build 026)

1. Website Search by location added to home page date picker and search page grid

2. Ciirus location setup tools added
website & marketing > general settings > Advanced settings > Location editor

3. Location Search landing page can have custom HTML
website & marketing > general settings > Advanced settings> HTML > Search Page

4. Image library -> Can now store a description which will be used as image 'alt' text when inserting in to web pages
website & marketing> Image Gallery

5. Contacts -> Increased maximum length of email address fields to 75 characters

6. Secure Track -> Fixed bug where a booking added by an MC would sometimes show as being added by an owner

7. Secure Track -> Now tracks changes to Booking Category

8. Online Booker -> Guest can now make a comment in the booking summary screen, which will be stored as a comment against the booking.

9. Website Advanced Settings -> If you use the top-left date picker you can now specify locations to appear in the location chooser. If you do not use the top-left date picker you can create a custom list of locations to appear in the top search bar

10. Credit Card Processing -> Now shows the booking category (select from the column chooser)

May 24, 2012 - version 2012 (build 024)

1. Quotes Manager -> Get Quote:

Can now search on properties that sleep at least the specified number of guests

2. Quotes Manager -> Quote Settings -> Down Payment / Balance:

You can now specify that a % down payment is recalculated after a user selects optional extras. This means the online booker will adjust the down payment due after a guest has selected their optional extras.

3. Ciirus updates can be downloaded directly from the dashboard

May 21, 2012 - version 2012 (build 023)

Split the income for cleaning charges and additional extras

It is now possible to split the income for cleans and additional extras between management company and the owner. In addition the split can be different percentage depending if the booking originated as an owner or management company booking.

For example if the booking is a management company booking the income for Gas BBQ rental could be 70% to the management company and the remainder to the owner. For an owner booking the owner could be allocated a higher percentage.

Below are the screens locations that affect the split income. Current reservations will not be affected. You can update a current booking directly from:

Bookings Manager > Total Booking Summary > MC Owner amounts > Edit

Bookings Manager > Total Booking Summary > Edit Extra

To set the default (global) amount for all Cleans (affects all properties):

Quotes Manager > Quote Settings > Short Stays / Cleaning / Other > Cleaning Fee Split

To set split amounts for additional extras go to Cart Settings:

Quotes Manager > Cart Settings

Please note: the online edition does not have the split feature. Please ensure you are using the Windows edition when sending the owner amount to the owner account. We will be updating the online edition in due course.

Occupancy Reports (Beta)

We have added Occupancy Reports to Ciirus. Data can be compared by Year, Month, percentage and various other criteria. We have included some default reports. The reports can also display as Graphs. You can access Occupancy Reports from:

Management Company > Reporting > Occupancy Reports

First select the date range and Load Data before any reports can be displayed.

Select a default report from the drop down list

To display a Graph, Highlight a range of numbers (Usually exclude the Grand Total) then press the Graph Button.

You can also create custom reports by pressing the 'Select Fields' Button, then drag and drop the field, either at the top or on the left column

Note: This feature is still in Beta. We welcome your comments and suggestion to further develop the Occupancy Reports feature.

Below is list of available occupancy reports (you can also create custom reports):

Nights and occupancy, Property by Year
Nights booked by MC, Month by Year
Nights by owner, Month by Year
Nights booked. Bedrooms by Month, Year
Nights booked. Category by Month, Year
Nights booked. Community/Resort by Month, Year
Nights booked. MC, Owner by Month, Yea
Percent Occupancy, Property by Month, Year
Property Occupancy, by Month, Year
Rental Income (pre-tax). MC, Owner by Month, Year
Rental Income (pre-tax). Property by Month, Year

Pool Heat Report Updated


Pool heat report you can now set the start date for the report:

Management Company > Reporting > Standard Reports

Bill Payments Updated

Invoices: Now has a column available for 'In Owner Account' so you can see at a glance if a particular invoice has already been sent to the owner account:

Management Company > Bill payments and Assets

X and Y offset for date picker

Can now set X and Y offset for date picker:

Website and Marketing > General Settings > Advanced Settings > HTML > Top Left date Picker

Custom Headers for Custom Web Pages

Custom Web Pages: Can now set custom HTML to go in page Header for each custom page:

Website and Marketing > Custom Web Pages > Header HTML

Hide/Show About Us / Management Services

Can now choose to hide the 'About Us' / 'Management Services' menu

Website and Marketing > General Settings > Top Menu Settings

More Data Available in the Bookings Manager

In the main bookings grid, can now select the following new fields from the Field Chooser: Total Booking Amount, Total Amount Paid to Date, Total Balance Outstanding

To view the column chooser, right click on any heading and select Column Chooser

To add a heading drag the heading from the column chooser to the row of headings at the top

Documentation for selecting additional columns in Ciirus:

http://help.ciirus.com/s/2494/m/5612/l/53083-setting-filters-order-and-grouping-information

Bookings Manager number of nights displayed

Bookings Manager: In the main bookings grid, the number of nights is displayed by along side the arrival and departure date

Bookings Manager Layout Saved

The main bookings grid appearance (column positions, widths and visibility) is now saved on exit, and recalled next time you go back in to Bookings Manager.

Booking Form Sent to Guest added

Added new field 'Booking Form Sent to Guest' in the Status tab

Specific Booked Cart Items Report

Report's on specified cart items for bookings arriving between specified dates. Shows qty and totals by Booking.

Management Company > Reporting > Standard Reports

April 23, 2012 - version 2012 (build 018)

1. XML Read / Write

April 20, 2012 - version 2012 (build 016)

1. Owners can no longer edit the 'Rental Rate Notes' box (as this was shared between MC and owner)

2. Total Booking Summary: It is no longer possible to edit the pool heat rate if Pool heat is not enabled for that booking

3. Supersite agents: Can now configure if an assigned property has mandatory extras included

4. HTML Editors, Image Gallery. Fixed error message that would pop up if there are no properties on the user account and an image is added to the editor

March 11, 2012 - version 2012 (build 013)

1. Newsletters and Templates: Guest / Owner confirmation, add [domain] token to display URL to your website

2. Newsletters and Templates: Guest / Owner confirmation, add [propertylink] token to show URL to current property

3. Image Library: Can now upload up to 100 images (per property and to the web image library)

4. Website & Marketing, Advanced Settings. Added new options for Page BG Color, Content BG Color, Top Spacer Height, 'Selected Property Bar' BG color

February 28, 2012 - version 2012 (build 012)

1. Can now move a guest review from one property to another

2. Various bug fixes

February 13, 2012 - version 2012 (build 009)

1. Added option to set the KGS flag against properties in Quick Property Setup

2. Added SEO Keywords, for those that sign up for the SEO Service

3. Standard Reports: Bookings / Payment Summary, added option to filter / sort by Date Booked (rather than arrival date)

4. Fixed bug whereby cleans were being assigned to a property automatically when a booking is added, even when the property had been flagged as not requiring a scheduled clean

5. Improvements to the RealEx CC gateway

January 24, 2012 - version 2012 (build 005)

1. Work Orders: Check box to flag a work order as 'No Charge'. This provides a useful cross check in the event you did not intend to leave a zero owner charge against a work order.

2. Uploaded Image Viewer in preparation for launch of iPhone app which has the ability to upload images from the camera.

January 10, 2012 - version 2012 (build 002)

1. Guest Templates: [numguests] token now counts based on the guest list entered, or if no list then uses the 'Adults / Children' fields in the Party Size section

2. Manage Owners: You can now override the default setting per owner to allow owners to see the owner amount on Management Company bookings

January 02, 2012 - version 2012 (build 001)

1. Quotes Manager Bug Fix

December 31, 2011 - version 2011 (build 109)

1. Fixed bug where sometimes Application would start minimized and then unable to restore screen

2. Added Standard Report: Booking Details (for export only)

3. Fixed bug adding / deleting blog categories


December 14, 2011 - version 2011 (build 104)

1. Websites: Can now add a user name and password to prevent public access. When you try to access any page, you will be prompted to log on first. The user name and password is set by you and is different to your Ciirus user name and password.

2. SuperSites: MC's can now create new SuperSite agent accounts within Property Manager.

3. Payment Gateways supported:

1. PayPal

2. RealEx payment gateway (UK and most of Europe)

3. BeanStream gateway (Canada)

4. Split screen view for Bookings List and Cleaning Schedule
(The splits the grid so you can scroll the top and bottom separately)

Usage: right-click on the grid header and choose "split"


December 7, 2011 - version 2011 (build 099)

1. The newsletters/templates page now shows only the list of available templates

2. Newsletters and Templates added Edit button

3. Module loading message

4. .NET installer

December 4, 2011 - version 2011 (build 097)

1. Added various "Please Wait" popup windows on lengthy operations

2. Booking List and Cleaning Schedule can now split the grid vertically

3. Guest Confirmation Templates: Can now include [ccpaymentlink] token to give link to the secure payment page

4. Online Booker: Can now define text displayed on final page (where guest is prompted to make payment)

5. Online Booker: Can now choose a guest confirmation email template to send to a guest on completion of their online booking

November 24, 2011 - version 2011 (build 094)

1. Various minor bug fixes

2. Standard Reports: Added new 'Booking Report 2'

3. Standard Reports: New tab 'Export other' which currently has an option to export guest contact details to Microsoft Excel

4. Included download for .NET Framework 3.5 if not already installed

5. Owner Account Balances Report: Now shows the minimum account balance and the amount due by the owner or to the owner. If the amount due by owner is greater than the minimum account balance then the amount due is displayed in red. If the amount due by owner is less than or equal the minimum account balance then the amount due is displayed in green. If no money is due from the owner then the amount is displayed in black.

6. Standard Reports: New 'Occupied Properties' report to show properties occupied on a specific date


November 09, 2011 - version 2011 (build 087)

1. Credit Card Payments: If you are configured for live payments, you can now flag payments as approved without taking an actual payment. This is useful if you had to process the payment outside of Ciirus on your virtual terminal

2. Total Booking Summary: Can now set total to zero. Doing this makes rental, pool, clean and booking fee = zero. Extras are at their stated price

3. Added new system wide category 'Owner Staying'

4. Rate Sets: Can now specify a set as tax inclusive, which will be taken in to account when quoting

5. Bookings Manager: Booking ID now appears on the Booking Detail report

6. Quotes Manager: If you are configured for Supersite agents, you can now run a quote using agent rates

7. Bookings Manager: If you are configured for Supersite agents, you can now add a booking assigned to an agent, which defaults to their allocated rates

8. Quotes Manager: You can quote with any rate set you have defined in your system (i.e. override the default rate set assigned to the property)

October 28, 2011 - version 2011 (build 085)

1. Website: Get Quote now shows date in shorter format

2. Standard Reports: Added 'export' button to export to Excel on reports where they were previously merging rows

3. Website Settings: Can now set Featured Properties

4. Website Settings: On Details page can now incldue the [key] token to show the key (legend) for that property

5. Owner Edition: Owners now have an 'Advanced Settings' menu which is a subset of the MC menu. This has 'Booking Schedule', 'Contacts' and 'Templates'

6. Bookings Manager: Owners can now send Guest Confirmation emails from a custom template

7. Misc Bug fixes

October 26, 2011 - version 2011 (build 083)

1. Templates: New Guest / Owner confirmation tokens available for Arrival / Departure Time, Guest Email and Guest Telephone [arrivaltime], [departuretime], [guestemail] and [guesttelephone]

2. Total Booking Summary: Fixed bug affecting a few users where the 'Set Total' button would not always save the calculated total

3. Bookings Manager: Fix bug where adding new Blacked Out Dates did not refresh the screen

4. Quote Settings: Fixed bug where the total tax figure sometimes showed as Zero rather than actual total. This was cosmetic only - the correct value was used for tax calculations

October 25, 2011 - version 2011 (build 082)

1. Bookings Manager: Fixed bug whereby sometimes the owner rates were showing even when MC switch off the visibility

2. Web Design: Ability for Ciirus to add completely customizable / new style date picker

3. Web Design: Ability to customize the search grid data row

4. MC Commissions: You can now specify MC Commission globally, per property or specific to a booking


Bookings Manager: Rates used to be stored as a single total including tax, extras etc. Pricing is now broken down in to component parts (rental, booking fee, cleaning fee, pool heat, extras) and individual items can be specified as taxable or not for each of up to 3 tax types. New 'Total Booking Summary' button on various screens will bring up these pricing details

5. Bookings Manager: Guest Payments have now been moved in to the new screen as above

6. Bookings Manager: Pool Heat has now been moved in to the new screen as above

7. Bookings Manager: MC/Owner Amount and Agent amount now moved to the new screen as above

8. Web Design: Added advanced setting to switch off all headers

9. Web Design: Ciirus can now customize the top menu via HTML

10. Newsletters / Templates: Can now customize your own Quote Template

11. Default Cleaner - can now set on a per-property basis (and moved the global default out of contacts in to MC General Settings)

12. Bill Payments and Assets: Can now clear the invoice batch (before processing) if you decide to start over

13. MC Specific property details. Can now see and edit the date the property was added

14. Extras: Can now specify items to be hidden from online booking shopping Cart. This is so MCs can enter items such as Excess Trash removal, Wire transfer fees etc that are added by MC only, at a later date

15. Bookings Manager: Can now create user-defined templates for Owner and Guest confirmations. When you send a confirmation you can choose the template you would like to use.

16. Bookings Manager: Important actions are now automatically recorded. You can add your own notes to the history

17. Bookings Manager: You can configure how to calculate the Owner amount. By default the owner amount includes taxes etc, but you can now set to only send the net owner amount (after tax etc) to the owner

18. Bookings Manager: Now defaults to only show more recent and future bookings. You can specify the date if you wish to view older bookings. There is now a refresh button in the lower tool bar.

19. Quick Quote: Fixed bug related to users in a time zone ahead of EST. On occasion the time difference would cause the requested dates to go back by 1 day.

20. Description Sets: Can now set a 'Search Grid Overview' which is a small summary description of the property that can be added to a custom designed search grid (configurable by Ciirus)

21. Saved Quotes: Re-designed the saved quotes screen, and allow editing of quote details (extras, pricing etc) and MC commission rates before turning in to a booking. New pop-up menu when you right-click a quote

22. Saved Quotes: Can now specify how long a quote is valid for

23. Bookings Manager: New pop-up menu when you right-click with commonly used functions.

24. Bookings List: Can now view rate and extras details against bookings

25. Bookings List: New pop-up menu when you right-click with commonly used functions

26. Saved Quotes: Can now create user defined quote types (such as quoted by MC, Quoted by Guest, Needs follow up etc

27. Include Imported Booking Reference for users that have migrated from other systems. This allows viewing and searching by the old style reference on existing bookings

28. Include supplier booking reference number in bookings list and Bookings Manager

29. Bookings Manager: When adding a new booking, the start date defalts to the end date of the currently selected booking, saving some date navigation to select the correct time period

30. Bookings List: On new right-click context menu, option to 'Show Booking in Bookings Manager'

31. Website Settings: Can now specify where the key appears on the Search Grid (top, bottom, both, none)

32. When an owner logs on, goes straight to the Bookings Manager screen

33. The main Application window title (where the user and version is displayed) has been rearranged to show the username at the start. This makes it easy to identify the correct Window in the Task Bar when switching between different users

34. Get Quote: Re-designed screen layout to make it easier to read particularly on smaller monitors

35. Get Quote: Can now specify that properties are not 'Quotable' within Ciirus

36. Get Quote: Can now choose to display a quote for 'All Properties' or just the currently selected property. Can also choose whether to quote on just specific size of property (by bedrooms), or all sizes

37. Bookings Manager: When sending a guest confirmation, can now include Lock Box Code, Alarm Code and Gate Code on the email. This is configured in the new template for the confirmations (within Newsletters and Templates)

38. Extras: Can now specify for each item whether it is available for your owners to add to their own bookings

39. Added new 'Private Comments' in the Bookings Manager 'More Info' tab. This allows MC or Owner to add comments to a booking that are only visible on that screen, and will not be displayed on any of the reports

40. Schedule / Reminders: Can now view the print mode list prior to printing, in order to re-size columns and group as you like

41. Bookings Manager: Can now specify Arrival and Departure Information (flight detials, where guest needs directing from etc). This can be displayed on the owner and guest confirmations

42. Bookings Manager: Guest name and dates are now editable on the General Details panel (rather than the Grid)

43. Cleaning Schedule: Now has next guest Lock Box Code. You can optionally add this to your custom cleaning report, if you have your cleaners set the code for the next guest

44. Bill Payments and Assets: Fix default 'Statement Date' so it now defaults to current date rather than a past date.

45. Cleaning Schedule: Can now include 'Clean Cost' for each clean (i.e. the amount your cleaning company charges you for the clean)

46. Extras: Can now add negative amounts when defining extras, which can be used for standard ad-hoc discounts (such as -$5 per day, $100 total for the booking etc)

47. Pool Heat On/Off report

August 1, 2011 - version 2011 (build 057)

1. Major Upgrade Starting August 2, 2011

2. QuickBooks Compatibility Improved

3. Dynamic Pricing (stage one)

4. Additional Reservations Report

5. Owner Account Update

6. Booking g fee

7. Packlate Integration Complete and a Success

8. Currency conversion button for online edition

9. SecureTrack Update

--

1) Major Upgrade Starting August 2, 2011

Update to the way we store rates against reservations

Currently rates are stored against a reservation as a grand total only.

When a quote is made, the component parts are itemized, however only the total amount is stored against the reservation.

This new update will store the base rental rate, cleaning/housekeeping charge, pool heat (if applicable), booking fees and the charges for any other optional extras.

Each of the above will be itemized and can be set as taxable or not. Individual costs of the booked extras will be editable then the new overall total recalculated based on tax settings.

This will improve the accuracy of the tax calculations and allow us to show the breakdown of the booking charges on the guest confirmations etc.

The above affects so many integral parts of the software hence an overall estimated time of 6 weeks to completion.

Once this has been done we can work on other much requested improvements such as storing quotes that can then be modified and turned in to bookings once a guest confirms, and many other new features.

We will recommence routine requests and enhancements after the above work is complete.

--

2) QuickBooks Compatibility Improved:

QuickBooks Exports from the following screen:

Management Company > Reporting > QuickBooks Exports

--

3) Dynamic Pricing (stage one):

Over the next few months we are adding Dynamic pricing features to Ciirus. This will enable discounts based on predefined rules. The first feature is available now. This feature can discount a percentage based on number of days booked. The feature is available from the following Screen:

Quotes Manager > Quote Settings > Short stays / Cleaning / Other (tab) > Discount

--

4) Additional Reservations Report:

Added new report to show bookings between specified dates and highlights those where a balance is owing beyond the due date:

Management Company > Reporting > Bookings / Payment Summary

--

5) Owner Account Update:

When leaving the owner account to another screen, when returning to the owner account retains the month previous selected within the current session

--

6) Booking Fee:

Can now add a booking fee. This can be either a flat fee or a percentage of total pre tax amount:

Quotes Manager > Quote Settings > Short stays / Cleaning / Other (tab) > Booking Fee

--

7) Packlate Integration Complete and a Success:

Over the past six months we have been working closely with www.PackLate.com to provide you with a unique real-time reservation service that enables management companies to specify a Floor Rate (net rate) from the Ciirus rates section for each property. The rates, availability, images for your selected properties are made available to over 4000 travel agents worldwide. Not only does this service allow you to specify the rate, it also pays you in advance.

The travel agents are able to book your properties in real-time. When a reservation is made, Ciirus updates availability, schedules the clean and all other features, as if the booking had been entered manually or booked from your web site.

The next stage is to make the service available to companies based outside the USA. We have been in communication with Steve Caron from Packlate, he has advised us that we may have the global service active by the end of the year.

The USA service is now all up and running with reservations made on a daily basis. Let us know if you would like to add some of your properties to this unique service.

--

8) Currency conversion button for online edition:

A currency conversion button is now available for the online edition. The button is located at top right of the online edition window

--

9) SecureTrack Update:

An MC with SecureTrack can now prevent staff from seeing the owner/MC amount against a booking, so they just see the total guest payment.

July 19, 2011 - version 2011 (build 051)

Multi-Currency

Two multi-currency features added to Ciirus

1) by 7/22/2011 Ciirus hosted websites will display a currency selector menu located on the top right of the web sites. Your website visitors can view prices in local currencies. The currencies are updated every 12 hours. This is only an indicator of the cost. Actual payment is still made in the currency that the property have been set.

To enable this feature the default currency must be set and 'Show currency drop-down on website' turned on from:

Website and Marketing > General Settings > Currencies > Select Default Currency from Drop Down

Website and Marketing > General Settings > Currencies > Make Default

2) A quick currency converter is now available in Ciirus (Windows edition). The currency converter icon is displayed at the very top left of the Ciirus control panel. The currencies are updated every 12 hours.

Other new features for version 2011 (build 051):

Owner account report - suppressed blank page at end of print-out which sometimes appeared
Owner accounts - option to print all statements for selected month/year with the click of a button
Website Images - Increased upload image limit to 50 (was 40) per property
Property Descriptions: Renamed 'edit' button to 'Title / Bullets'
Guest Confirmation: Include property type (villa, condo etc)
Website: Option to open the 3 customized top menus in a new browser window
Cleaning: Can now charge hourly rather than based on number of bedrooms
Cleaning: If you do not set a default clean price for a particular property size then the 'Clean to owner account' function will still list the clean, but with a zero default rate (highlighted in red)
Cleaning: When processing to owner account, if a cleaning charge is set to 0 then this will be highlighted in red
Guest confirmation: Removed the incorrect 'Tax %'
Website Enquiries: Can now specify an alternative email address to receive inquiries
Credit card payments: If you cancel a booking then any pending security deposits for that booking will now be cancelled from the credit card screen
Quotes: In Quote Settings you can now specify a discount % if booking duration is > x days. This is on a per-property basis.
Contacts: Added second email address field
Increased space for Management Company address at top of various reports and reduced font size to prevent long company names from wrapping
Fixed 'Balance Due by' date issue on the Guest Confirmation. It now only shows if there is a balance due, and if overdue then shows as 'Due now'
Fixed bug where newly added work orders were added as 'in progress' rather than 'pending'
Management Companies can now optionally allow Owners to see the Owner Rate against Management Company bookings

July 07, 2011 - version 2011 (build 045)

New property templates available
Bookings Manager: Date Added now editable
Owners: can no longer add or delete a property
Check printing: include vertical offset to move printing down
Check printing: Now prints address on check
Check printing: Allow longer memo text
Check printing: Removed error popup saying printable area outside margin
Dashboard: Fixed occasional dashboard loading problem
Owner Telephone numbers: Added 3 additional fields for Telephone numbers in Owner details
In certain cases Ciirus can process credits cards on your behalf
Online edition: Fixed bug where some owners could not log on
Work Orders: When you add a new work order it now takes you to that work order (it used to leave you on the previous one then you had to find the new one)
Work Orders: When you select a contact, it immediately enables the €˜Email€™ option
Work Orders: If you send an email before saving the work order, it used to come up with an invalid email error. This now works
Work Orders: Allow decimals in the 'Work order time taken' field
Work Orders: Prevent owners from deleting or changing dates. Owners can now only edit the owner comments
Bill Payments: Allow upload of PDF invoices
Manage Owners: Improved the layout of the 'Manage Owners' page
Remote websites: Changed layout of the 'Embed HTML Codes' page
Web sites: Top menu can now be positioned above the Flash banner
Property Features: Several new property feature (icons)
Edit Rates: Monthly rates

June 22, 2011 - version 2011 (build 044)

Bookings Manager: Date Added now editable
Owners can no longer add or delete a property. The Property Manager now has to do this
Check printing, include vertical offset to move printing down
Check printing: Now prints address on check
Check printing: Allow longer memo text
Check printing: Removed error popup saying printable area outside margin
Fixed occasional dashboard loading problem
Added Telephone 2,3 and 4 for in Owner details
Various CRS improvements

May 20, 2011 - version 2011 (build 035)

Supports new Payment Gateway
Communications Module Tab (beta of new upcoming module)
New 'Booked Extras' report under standard reports
Property Comments Box in MC Specific Details
Misc minor enhancements

April 29, 2011 - version 2011 (build 030)

Distribution Module Released
Seprate description sets for MC and homeowners
Minor bug fixes

April 21, 2011 - version 2011 (build 026)

Create multiple description sets for each property
Homeowner now has independent descriptions to management company
Description can be assigned to Distribution Module sub accounts (feature not yet active)

April 18, 2011 - version 2011 (build 023)

Property List Panel (dockable) showing list of properties
Property Count
Works Order Screen - Can filter by multiple properties by selecting from check-listbox
Descriptions disabled whilst we work on the Distribution Module

March 14, 2011 - version 2011 (build 019)

Additional property features icons added. The web site icon index will only display relavent icons
Right-click context menu in the bookings manager and bookings list
Ability to move a booking across dates and properties at the same time from the booking scheduler

March 07, 2011 - version 2011 (build 016)

Final Integration with over 4000 Travel Agents Worldwide
Various fixes

March 03, 2011 - version 2011 (build 015)

Integration with over 4000 Travel Agents Worldwide
Better integration with the First Data network
Multiple lock box codes: cleaner codes, pest control codes, maintenance codes and emergency lock box code
The secure payment web page now takes City and State/Province

February 23, 2011 - version 2011 (build 012)

Accept CRS Direct Agent Bookings
Added a third Tax option for states and counties that require 3 taxes
Taxes can be specifically labeled
Added sales tax id field
Added "arrival/departure" information field

February 15, 2011 - version 2011 (build 011)

Added extra option when printing the Works Order summary (to group by property)

February 03, 2011 - version 2011 (build 009)

Quote will only show available properties
Assign owner account category to a works order
Can now use 2 decimal places when entering a new booking in bookings manager (used to only allow a whole figure)

January 21, 2011 - version 2011 (build 008)

Updated web site editor
Can specify and display Daily rates
Can specify minimum days rental for any period
Added floor rate feature for up coming agent and retail bookings
Printed PDF documentation available (see top right of this web page)

January 18, 2011 - version 2011 (build 007)

New Owner Account Global Summary reports
Various bug fixes

2011.006
Various Bug fixes

2011.005
Fixes problems on Turkish PCs
Can now set Property Type (Villa, Town House, Condo etc)

January 10, 2011 - version 2011 (build 003)

Overdrawn Accounts

The Overdrawn Owner Accounts dashboard panel, you can group the owners, so if for example an owner has 2 properties and one is overdrawn and one is in credit, then it shows the sum for the owner. This can be selected using the tick box at the bottom-right of the dashboard.

January 06, 2011 - version 2011 (build 002)

Bookings Manager

defaults the booking manager to the next booking, and collapses previous years to keep the list looking shorter

January 04, 2011 - version 2011 (build 001)

30 skins added

30 new skins have been added to the Windows edition. You can change the look and feel of the Windows edition from the skins menu located at the bottom left of your screen.

Property map

The property map will display the location of your properties in any of the following modes map, satellite, and terrain. The property map feature is located in the user account menu. Clicking on the property in the map will display the property image of property details in a pop-up window.

Note: In order for a property to be displayed go to:

Property Details > Property Name / Location' then ensure the correct postal address is entered and press the 'Auto' button.

Bookings manager update

When entering the bookings manager screen, the selected property will always display the current booking.

Search Grid

The search grids can now be added to external web sites.

E-mail templates

E-mail templates for card payments can now be customized: management company > credit card processing > E-mail templates

New version numbering

Each new version update will now contain the year and build number, for example this release is: 2011 (build 001)

December 14, 2010 - version 2.641

Custom Logo Branding

You can now display you logo to replace the Ciirus logo in the top right of your screens for Windows Edition and Web Edition (to be released this week). To enable this feature, you must send us your logo for reformatting and uploading.

CTRL F

Ctrl F for searching on Grids

Quotes Manager

Faster Quotes Manager

fixes the problem where the date bands were not updating when you choose a different rate set.

SecureTrack

Price reduced to $9.99 per month

November 27, 2010 - version 2.631

SecureTrack (Optional)

What is SecureTrack

SecureTrack is an optional service for Ciirus Property Manager that allows restricted multiple staff and vendor access to your Ciirus Property Manager account. Updates and changes made by the administrator, a member of staff, a vendors and homeowners are tracked, recorded and stored for up to two years. The history can be recalled, filtered and viewed by the administrator (the account owner).

SecureTrack comprises of two modules:

1) Access Control:

The Account Access Control feature allows the system administrator to restrict access to selected screens on a per user basis. For example the administrator could restrict access for the reservation staff to the bookings schedule, bookings list and bookings manager screens only. All other screens would be disabled for this user.
Example situations where you might use Access control include:

Example of Viewable Screens:

* Admin - All Screens
* Reservation staff - Bookings Manager, Bookings List, Bookings Schedule, Cleaning Schedule, Booking Agents
* Accountant Owner - accounts, Reporting, Bill Payments & Assets, Credit Card Processing, Tax reports
* Work order dispatch - Work orders, inventories
* Marketing - Newsletters & Templates, Web Analytics, Home page, Property sort order
* Web Developers - Web Site & Marketing, Property details
* SEO developers - Search Engine Optimization, Web Analytics
* Home Owners - Home owners have a separate online login. Main menus can be enabled and disabled by the administrator

2) User Change Tracking:

The User Change Tracking Features Overview:

User Change Tracking allows the system administrators to track changes made to records by each member of staff and the home owner. The records are maintained for up to 2 years.

Tracked changes include the following:

Inserts: New records added
Updates: Records that have been updated
Deletes: Records that have been deleted

For each updated record the system will display:

The status of the record (either Insert, Update or Delete)
The user that updated the record
The time and date the record was updated
The data that was updated
Track system login access
Who accessed the system
The location (IP address) used
The time and date
The edition and version of the application that was used to access the account

New Web Page HTML editor


We have installed an updated web site HTML editor. The new editor has an embedded HTML view. The performance of the new editor has improved. Better handling of fonts.

Improved Performance Loading


The menus now load faster. The way the modules are loaded has been improved. Just to reminder, you can view when a module loads from the blue bar at the bottom of the screen.

Booking Category update

Can now set booking category for online bookings

Bookings list 'Date Added'

Can now add 'Date Added' column to the Bookings List

Second currency being removed in the owner edition

The homeowner edition will no longer have the second currency option. This decreases the performance when running online quotes and is rarely used. We are phasing this out over the next 4 weeks.

November 06, 2010 - version 2.625

Shopping Cart Feature is Live

Your Ciirus online booking system has an integrated shopping cart. Your guests can purchase additional items that you make available, directly from your web site. The items can be purchased at the time of booking the property.

Quotes Manager > Cart Settings

Home Owner Login Screen Locks

You can now optionally disable any of the following screen from your home owner login screens:
Web site Manager, Property details, Bookings Manager, Quotes Manager

Management Company > Manage Owners

Print feature added for Booking Details Report

Bookings Manager > Print

Unlimited Domain Names

You can point unlimited domain names to your web site:

Web site and marketing > Domain Name

Online Edition Updated

The Online Edition has a number of updates including:

* Add and Save booking at the top of the screen
* Only dates and name now appear for management company bookings

The CRS (Ciirus reservation Services) telephone number change

CRS number has changed to +1 (407) 557-8543

Transaction audit reports and admin screen locking and multi admin logins

We are currently developing the following optional feature:

* Multiple staff logins. A separate login for each staff member
* Screen locking: disable selected screens from staff members
* Audit Reporting: The system will log user, time and certain changes made by staff members

Charge added to work order summary list report

The charge for a work order can now be viewed from the work order summary list report

Property Plus Data imports improved

Additional import routines have now been added for clients transferring to Ciirus software from Property Plus

October 20, 2010 - version 2.623

Batch check printing: Separate sheet with check details
Dashboard: Added overdrawn Owner Accounts
Web / Property Images: Can now upload PNG as well as JPG
Schedule A report: no longer cuts off owner name
Cleaning Report: Comments added to default cleaning reports

October 03, 2010 - version 2.621

New Property Features & Icons
Update web grid for property search which also shows the new property features as defined above.
Sales Tax Report

September 25, 2010 - version 2.617

Saved Quote Update
- Ability to create a new booking from a saved quote

September 22, 2010 - version 2.616

New standard reports

Owner month end report
Current account balance Report

Batch Invoice Update

Current day owner balance displayed against property on add invoice batch

Bookings Manager Update

Improved 'Create Booking' input form
When adding a new booking, new icon to auto-calculate rate based on dates

August 27, 2010 - version 2.6

Ciirus Reservation Services
- Confirmed bookings available for your properties
New standard reports

Expected Arrivals Report
Departures Report
Payments due / overdue
Refunds Due
Free / Available Properties

Sales / Tourist Tax

Tourist Tax (Schedule A) Reporting
Option to base reports on either arrival or departure data

Booking Manager

Email Guest / Owner Confirmations
Send payments to owner account
View / print availability calendar (available in owner€™s version too)
Flag a booking as early check-in as well as late check-out

Newsletters / Templates
Owner Accounts: Email Owner Account to Owner
Booking Schedule: Option to highlight selected date and start/end dates on selected booking
Work Orders:
- Improved report
- send work orders to cell phone (email)
Bill Payments: Option to include Invoice # or Account # on printed check
Set default % commission to take when an MC booking is added, and option to take commission based on gross or net income
Set default check-in and check-out times

July 16, 2010 - version 2.571

Batch invoicing
Email works order to assigned contact
Extra filters on Bookings Scheduler
Can specify date range and filters on Bookings List Screen

July 9, 2010 - version 2.562

Drag and drop the bookings in the scheduler. When you do it adjusts the cleans, and adds a comment to the booking.

July 8, 2010 - version 2.56

Faster application start-up time
'Escrow Accounts / Statements' now renamed to 'Owner Accounts / Statement'
Improved Owner Account print-outs (monthly and annual)
- Can add your own logo
- Includes owner name and address
- Can add custom header / footer text
New 'Quick Property Setup' option to quickly make changes to multiple properties
Can now specify the sort order that properties appear on your web site
Can now add 'black out' dates to a property (e.g. when work being carried out so cannot take a booking)
Works Orders:
- you can now record vehicle mileage and time taken against a works order
- You can allocate works orders to your staff members or other contacts
- You can specify whether a works order should be hidden from the owner
- You can print a works order sheet
Can re-order the menu items on the left hand menu using drag-and-drop, so you can move commonly used items to the top

June 28, 2010 - version 2.55

Property Plus Data can now be imported
Booking Categories:
-Can now create an unlimited number of booking categories, and assign bookings to these categories
- You can assign a background and text color to the categories you create. This will show on the various booking screens and cleaning schedules
- Each category can be defined as an owner booking or mc booking
- Each category can optionally be set as tax exempt
- You can choose a default category to assign to new bookings to depending on whether the booking is an MC Booking, Owner
Booking or Tour Operator Booking Can now include €˜Checkout time€™ for late checkouts
The storing of logon password on the initial logon screen is now optional to increase security
Management Companies can now choose whether to allow their owners to modify the property descriptions and photos that are displayed online
Improved formatting of tax reports (and takes in to account if a booking is tax exempt)
The Bill Payments screen now allows grouping by Check# and can show invoices that were paid on each check. This makes it easier to reconcile with bank statement

May 27, 2010 - version 2.54

Unlimited Custom Web Pages
Updated web menus
Lock box, alarm, gate codes

April 27, 2010 - version 2.53

The credit card processing features have been updated
Live payments can now be taken (currently for FirstData merchant users only - others on request)
The credit card processing screen displays RED = anything that requires processing, GREEN = Processed, ITALICS = Security Deposit
Enter a guest payment to a booking option and enter a payment to the owner account option
The new credit card link in the Bookings Manager allows you to select a payment type and define the amount to be charged. If left blank the guest can enter the amount.
You can now launch multiple copies of property manager. This can be use full if you operate multiple management companies
The Dashboard item highlight colours have been updated
The selected web site menu buttons can now be not visible. The pages still exist if you directly link to them but the selected buttons will not appear in the menu. You can rename your web site buttons. Useful for non English web sites. see Web Site & Marketing > General Settings

March 23, 2010 - version 2.52

Booking Agent Logon
Owners can no longer modify a Management Company booking
Owners can no longer see the rate against Management Company bookings
Can now specify a minimum length of stay for online bookings
Dashboard print option
Balance due now shown against bookings on the payments tab
Consolidated the Management Company 'Online Bookings' settings in to the general Quote Settings
Logon screen now has option to logon as demo account (Floriwood)
Can now flag a property as not requiring a clean (e.g. for properties that an Management Company obtains bookings for but does not manage)
On user websites, top menu now in HTML rather than flash to allow easier future customization and increase performance
'Property Name' setting has been moved from 'MC Specific Details' menu to the 'Property Details' menu

Feb 24, 2010 - version 2.51 -Information channel - Annoucements panel - Web enquiry emails - Save quotes - Community video tours (free) - Multi invoice check - show canncelled bookings - party size - arrival time - late check out - type of clean option for mid and end of stay - print bookings summary - web site search property by date.

Jan 28, 2010 - version 2.49 - Analytics Marketing Tool- Color Coded Bookings

Jan 19, 2010 - version 2.48 -Duplicate Requirements bug fixed - Add / Update card used for monthly payments

Jan 12, 2010 - version 2.47 - Quick quote panel added - Add new owner and property from more menus and logon panel

Dec 20, 2009 - version 2.463 - Report Writer update - Rate Band Sets update - Rearranged Menus

Dec 14, 2009 - version 2.46 - Report Writer update - Rate Band Sets - Bill Payments

Dec 04, 2009 - version 2.45 - Full Report Writer with reports

Nov 18, 2009 - version 2.41 - Check printing - invoice scanning - assets register

Nov 07, 2009 - version 2.38 - Unlimited customized details in MC properties screen

Nov 03, 2009 - version 2.37 - Dashboard customization - set view days ahead

Nov 01, 2009 - version 2.36 - Dashboard feature on startup - Disable button for homepage grid for one property

Oct 24, 2009 - version 2.35 - select sales tax dates - updated cleaning reports

Oct 22, 2009 - version 2.34 - Gate code, minor bug fixes, adjustable height help tips, preview and quote buttons in the quick-menu bar

Oct 08, 2009 - version 2.33 - Added Online Reservation - minor bug fixes

Sept 25, 2009 - version 2.32 - Added bookings lists

Sept 17, 2009 - version 2.31 - Minor fixes to updated cleans now saving correctly

Sept 03, 2009 - version 2.30 - Interface color updates

August 31, 2009 - version 2.28 - Added functions to support upcoming MC edition

August 17, 2009 - version 2.27 - Escrow reports added

August 14, 2009 - version 2.25 - Added functions to support upcoming MC edition

July 31, 2009 - version 2.22 - Bookings button error on some PC's fixed

July 20, 2009 - version 2.20 - Time zone error fixed

July 16, 2009 - version 2.19 - Updated integrated online quotes panel - updated buttons for add/delete quotes

July 02, 2009 - version 2.18 - New Features: view sales and tourist tax reports and future bookings reports

June 24, 2009 - version 2.17 - Image gallery feature added

June 23, 2009 - version 2.16 - bookings bug fixed - added home automation feature

May 28, 2009 - minor update - Add new property bug fixed - Sign In screen now displays time last signed in

May 25, 2009 - minor update - installer issue fixed

May 23, 2009 - Version 2.0 released